Caledos Runner: Exercise Tracking Windows Phone App With RunKeeper Integration
When it comes to fitness-related apps for Windows Phone, Endomondo leads the pack. Not only is the app very comprehensive and feature-rich, it has a very nice interface, too. With the passage of time, however, a lot of other good apps of the same genre have started making their appearance in the Windows Phone Store. Caledos Runner might not be the prettiest Mango app out there, but once you get down to using it, you are sure to admire the attention to detail and the kind of customizability it offer. Caledos Runner can be used to track your progress in just about any workout routine, but as the name suggests, it is particularly useful for tracking outdoor activities. Though, that does not mean you can't use Caledos Runner indoors, as the app comes with options to let you add manual details to any activity. The icing on the cake is the app's integration with RunKeeper, which syncs all your exercise data to the cloud.
Although the app's integration with RunKeeper is major plus point, Caledos Runner does not force its users to sign in or register for an account just to use the app. You can sign in from the app's settings menu, but even without that, it is possible to track activities or create manual ones. If you are in a hurry to start your workout, just launch the app and hit the Run tile. Caledos Runner is quite an interactive app, and communicates most of the data via audio cues. You can configure the audio cues according to your preferences, having the app speak out the current time, distance and other similar data.
If you are about to start performing a workout routine, and want Caledos Runner to track it in real-time, use the Run or Activities menus. While you are running, the app will work under lockscreen, recording the elapsed time, amount of burnt calories, distance that has been covered and your average speed. All these stats get updated according to the change in your location, and the map view will let you see where you are headed. While everything else works offline, you will need an active data connection in order to view the maps. In case you forget to record an activity in Caledos Runner, or are doing some form of exercise that the app cannot track live, there is a Manual Activity section that you can use. In this menu, you can add activity type, equipment used, calories burnt, heart rate and other data to the activity list.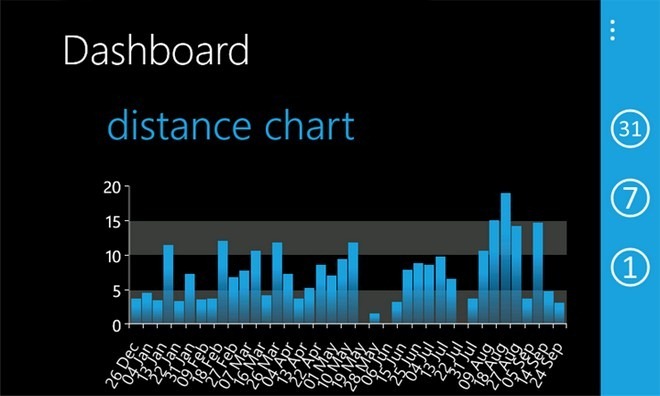 Another great feature that Caledos Runner offers is Statistics. You can apply any one of the available time filters, and the app will show you the distance chart for the specified period of time. Other than the activity graph, there are separate tiles for overall calories burnt and number of activities tracked.
The app's RunKeeper integration keeps you apprised of all your fitness-related best times and records, thereby providing motivation to do even better. You can also post details regarding your exercises over social media. Caledos Runner is a free app, and requires nothing more than your device's GPS to perform all of its listed tasks. You can download the app from the following link.
Download Caledos Runner For Windows Phone