Ding Is A Vibrant, Gesture-Based Alarm Clock App For Windows Phone
In the past, we haven't covered a lot of alarm apps for Windows Phone, or any other platform, for that matter. Most people aren't in a particularly rosy mood when they get up in the morning, and a feature-laden alarm clock app is likely to annoy you more than anything. While apps like 627.AM and Clever Alarm are useful in some situations, you are likely to prefer a more run-of-the-mill app in your daily routine. Ding for WP7 and WP8 doesn't come with a host of customizable features, but it looks good and is very convenient to use as well. It reflects the accent color you have chosen for your phone, fitting right in with the overall theme, and sports a unique gesture-based UI for quicker, easier setting of alarms.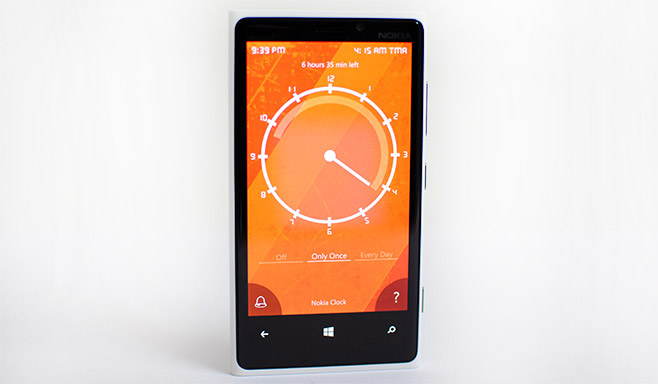 It is pretty easy to use Ding, but to make things even more convenient, the app starts with a detailed graphical tutorial. Even if you skip the instructions the first time, it is possible to call on them later by hitting the question mark in the bottom-right corner of the main screen.
To set an alarm on Ding, just drag the clock's single needle clockwise. The text in the middle of the top bar shows the hours and minutes left till the alarm sounds. The current time is displayed in the top-left corner, while the other edge shows the time of the alarm. If you intend for the alarm to go off after 12 hours or more, simply drag your finger around the time dial until you return to where you started and carry on. Moving clockwise beyond the 12 mark reveals a second circle within the first one that goes up to 24 hours from the current time.
Ding offers option to set the alarm to go off just once or every day. You can't set multiple alarms using the app, as it has been designed to act as your wake-up clock only. To assign a tone to the alarm, tap the bell icon in the bottom-left corner. Some of the tones supported by Ding are unique to the app, while others are the ones that come packed with the OS itself. Ding's live tile shows the state of the alarm (on or off) along with the set time.
Ding is available as a free download in the Windows Phone Store. It works with both Mango and WP8 devices, and is a novel alternative to the stock Alarms app, despite lacking features like support for multiple alarms and choosing particular days of the week for each.
Download Ding For Windows Phone