Microsoft BLINK For WP8 Now Creates Animations From Burst Shot Photos
Windows Phone already has Action Shot, so the presence of Microsoft Research's BLINK might seem a little redundant to some as the two serve the same purpose of making sure that you never end up taking a bad photo. Blackberry's Time Shift feature and third-party iOS apps like timelyy also employ the same concept, but thanks to its latest update, BLINK is different from all of these apps/features. This is because it doesn't just capture multiple still shots to let you choose the best of the lot; it also creates an animation out of the photos to make the whole thing even more useful. The app has been around in the WP Store for some time now, but people have often complained that it lacks some of the options that could have made it their default camera app. If you are among those people, you are going to love the latest BLINK update. Read on for details.
To see the new camera options that have arrived in BLINK, head to the bottom bar while in photography mode. The three available options are 'Exposure', 'White Balance' and 'ISO'. You can also restore everything back to its default configuration in case something doesn't look right. All these options might not be any better than the settings available in the stock camera, but are certainly a big improvement over the app's previous version.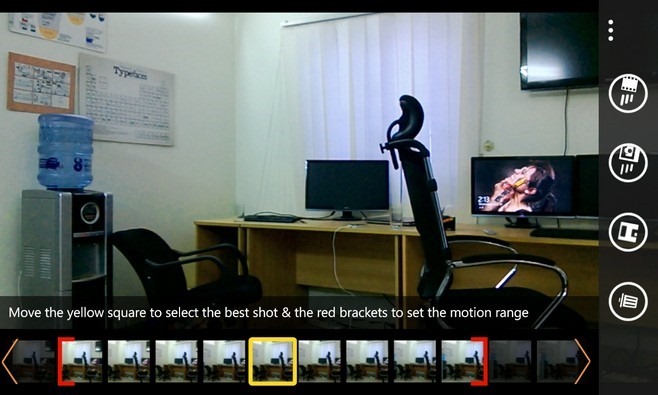 Once a string of images has been captured by BLINK, you can easily choose the perfect shot by scrolling through the strip shown at the bottom of the screen. To see the newly added animation in action, simply tap the screen. BLINK includes all the captured images from a sequence in animations but users can also choose to drag the red borders if they want to adjust the starting and ending points of the animation.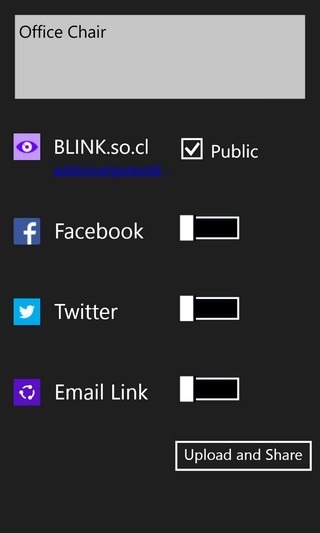 Both animations and stills can be shared across multiple networks very, easily thanks to the latest BLINK update. So.cl integration has arrived, and you can also tap the Facebook, Twitter and email toggles for simultaneous sharing.
A link to the BLINK 'web gallery' has been added to the upload history section of the app, which can help you gauge the WP8 community's overall sharing trends. Unfortunately though, the gallery shows up in Internet Explorer rather than within the app.
BLINK is a free app, and works only with Windows Phone 8 devices. Give it a go by heading to the link below.
Download BLINK for Windows Phone