WSJ Live: Watch Video News From The Business World On Your WP7
The Wall Street Journal is one of the most important and popular news source of the world. No business-related news can possibly be big enough if it isn't in Wall Street Journal. With the advent of technology, the financial tabloid had entered the cyber age as well. Now many people prefer watching the video content available via Wall Street Journal's website and TV channel, instead of reading whole articles. A video can certainly enlighten you more on any topic as compared to a written story, and that's why WSJ Live can prove to be the perfect app for all Windows Phone 7 users who are even remotely interested in financial matters and the stock market. The app presents users with news stories, but only as videos. You can also use WSJ Live to watch some of the most popular Wall Street Journal programs, right on your Mango phone's screen!
The current headlines on WSJ Live are displayed in the Spotlight section of the app, and this is the same menu that houses breaking news items. As discussed above, the news stories are all in the form of videos, and you can begin streaming content with a single tap. It is also possible to search for a particular keyword, and the button for that is provided in the bottom bar (although the app froze every time I tried searching for anything). From the menu marked browse, users can sift through videos related to any of the listed topics, which include all that are currently popular among users.
If you are a fan of any WSJ show, WSJ Live is a must-have for you. The app has a separate section where users can pick any episode of the popular shows from Wall Street Journal. The listed shows include "The News Hub", "WSJ Lunch Break" and about a dozen more. Inside each program's dedicated page, all its recent episodes are listed, and you can watch any of them if you have a good internet connection.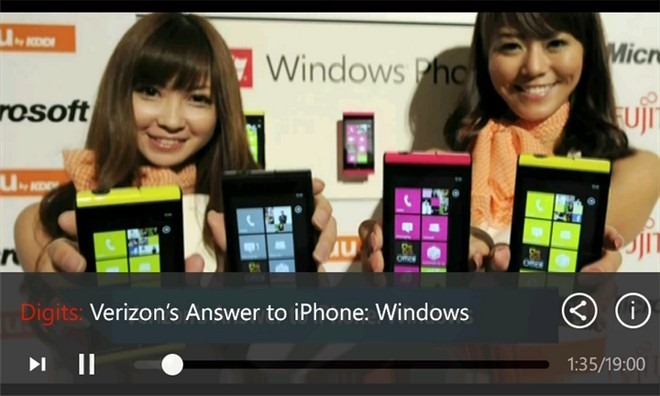 The WSJ Live video player is pretty good, and you can skip to any part of the current video by double-tapping the streaming bar. The share button is also available in the player's control menu. To navigate to the next episode of a show, you can either go back to the episode list, or there is the Next button available in the control bar.
WSJ Live is a free app, and if you want to stream lots of news videos conveniently on your WP7, head to the web Marketplace link provided below.