Accounts Tuner – Change Windows User Account Settings And View Usage Stats
Want to tweak with Windows users account settings and view statistics of each account without having to open Windows group policy editor? Windows doesn't provide a feature to configure advance user profile settings, but Accounts Tuner does. It allows you to not only configure user profile settings but shows statistics regarding most recent logon, password age, bad password count, etc. Along with your local computer connected in a network, you can also choose to view user login and other information regarding the server.
Accounts Tuner allows system administrators to quickly disable and lock any selected account, enforce user profile password required option for creating new accounts, toggle password never expires option on/off, and permit/restrict users to change password.
The application doesn't require you to login as an administrator to tweak with User Profiles settings, however, it's always advisable to configure user profiles options with administrative rights to avoid conflicts. The main interface lets you select user profile which you may want to tweak with. In Username drop-down menu, you will find all the configured accounts. Select one and review its usage statistics. Underneath the info, it offers some toggles to enable/disable all the aforementioned user profile specific settings.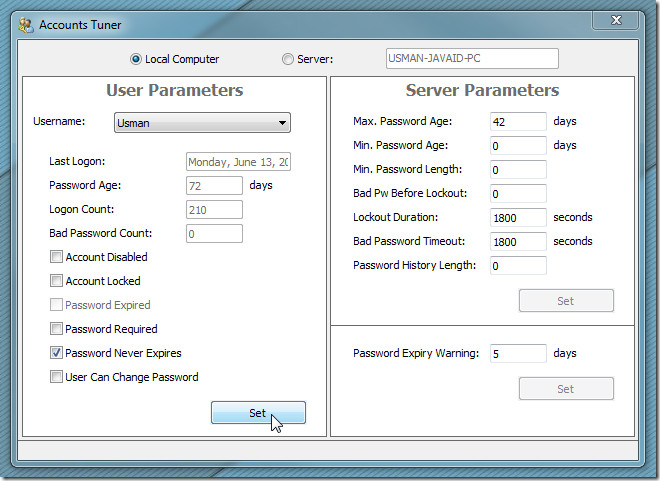 By default, it works in Local Computer mode, but if you're connected over network and want to view server info, enable Server option from the top. The window at right side shows information like, Max and Min password age,  minimum password length, lockout duration, password history while enabling you to change password expiry warning after specified number of days. When default settings get changed, the Set button will become active, letting you permanently apply the settings.
Accounts Tuner is nice little user account tweaker for Windows. It works on all versions of Windows.