Flowkeeper: Assign Multiple Pomodoros To Tasks & View Work Productivity Report
Developed by Francesco Cirillo, Pomodoro is the widely used time management technique that helps users divide the total work into 25 minute intervals called pomodoros (Italian word for potatoes) to efficiently manage both amount of work to be done and total time. Not only does it help users manage time, it also makes it easy to breakdown the total amount of work into smaller tasks, so that they can be performed within 25 minute time interval. After working on tasks for 25 minutes, it alerts users to take a break for improving mental agility. Flowkeeper is a light-weight, unobtrusive Pomodoro application that allows you to keep track of pomodoros as well as tasks. The application operates from system tray, letting you quickly view pomodoros history and currently assigned tasks to complete the work within set time frame.
Flowkeeper offers a simple interface to quickly set tasks, assign pomodoros (25 minute timer), and to view statistics to measure the overall work productivity. Once installed, bring up the main interface from system tray, and click Add task to enter task name and assign pomodoros. Once done, click OK to add the task to main interface.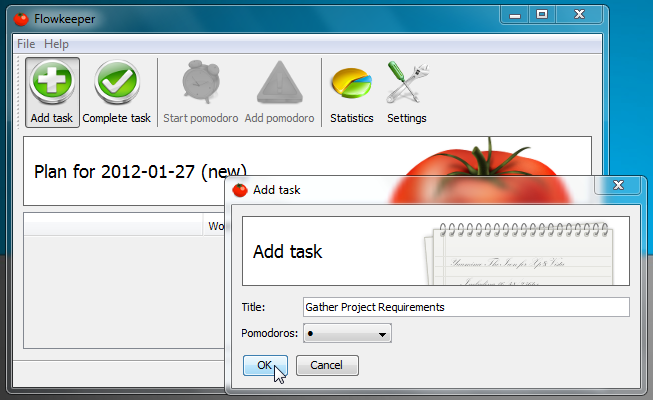 Similarly, you can add more tasks and assign them required number of pomodoros. When all tasks are added, select the task from the list which you want to perform, and then hit Start pomodoro on toolbar.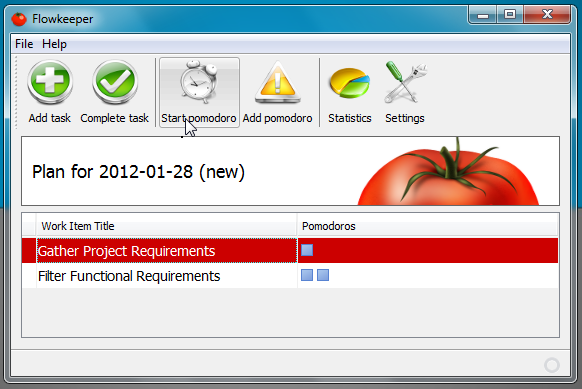 Upon click, it will start the pomodoro timer. You can stop the timer using Void it option. If something interrupts you during the work, hit Interruption to log the reason for taking a break. This will help you check what made you stop working on tasks when you view the productivity report at the completion of assigned work.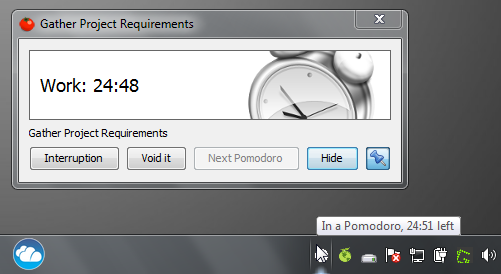 The system tray menu lets you jump to next pomodoro in the list, and open Settings dialog to change default pomodoro length and break time interval. Moreover, you can enable/disable timer sound and change app behavior when pomodoro begins.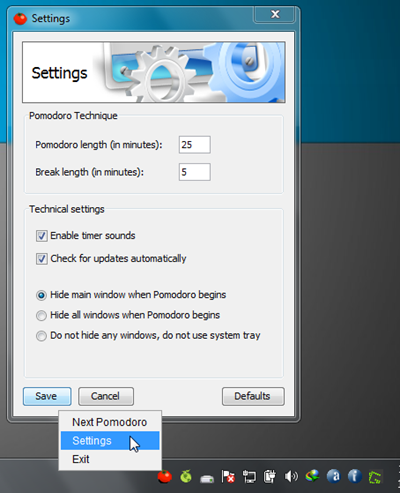 When you finish working on a task, open main interface, select the task and then hit Complete task on toolbar. You can also add more pomodoros to selected task using Add Pomodoro option. When you're done with all the assigned tasks, open Statistics dialog to review the work productivity report, which shows Work items, Pomodoros and Interruptions details. You can check total number of finished and unfinished tasks, total interruptions, average pomodoros used for a task and more.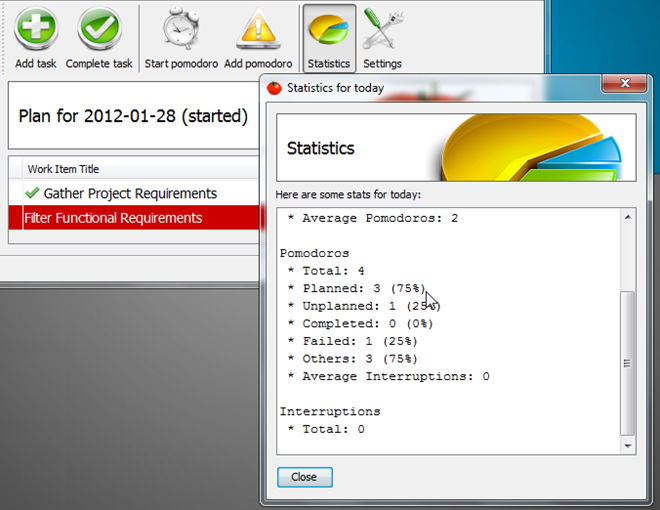 Flowkeeper is a simple, yet feature-rich pomodoro application, but unlike previously covered pomodoro app, namely StayFocused, it doesn't log the time you spend on applications while completing the tasks and allow saving pomodoro statistics report. It works on Windows XP, Windows Vista and Windows 7, provided you have JRE (Java Runtime Environment) installed.