Auto Disable Mouse Touchpad When Typing
It is a common annoyances with netbooks and laptops which lack the disable touchpad button. Most blogs out there are covering a single method to disable the touchpad, i.e, go to Control Panel > Mouse Properties and then disable the touchpad from there.
The above method is not suitable for those who need to disable the touchpad frequently for short periods of time. Who in his/her right mind would navigate back and forth just to enable/disable touchpad? This could be quite a hectic process.
TouchFreeze is a brilliant little app that solves this problem. It disables the touchpad temporarily the moment a keystroke is pressed. In layman's term, it disables the touchpad automatically when you are typing and enables it back when the typing is stopped.
It will sit silently in the system tray without disturbing any of your work. Just start typing and don't worry about the touchpad any more.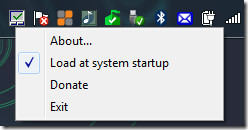 I prefer using this app even though my notebook has a disable touchpad button. Please note that this app might not work with certain laptops, but should work with most netbooks and laptops that lack the disable touchpad button.
It works on Windows 2000, Windows XP, Windows Vista, Windows Server 2003/2008, Windows Server 2008, and Windows 7. Enjoy!