AVERT Scans Your Infected Windows PC With Popular Antivirus Tools
Malware, be it a virus, spyware, rootkit, or anything from the lot, is a computer users' nightmare. They can harm your data, damage your hardware, steal personal information, bring down whole networks, and in general can wreak havoc on any digital machine. They may even become the cause for financial loss once they hit on a massive scale. While Anti-malware programs work well mostly, they usually become useless once an infection has taken place. Considering how the sophistication of malware is also increasing, they are becoming smarter at disabling most anti-malware protection that you would have.
So how to battle such a scenario where your system has already caught the infection? Previously we covered a wonderful command-line based tool, ComboFix, that has worked for me even in the most catastrophic scenarios. An alternative today can be AVERT, a free portable tool that combines the power of some of the best malware scanners and removers, allowing you to safely get rid of almost all kinds of infections.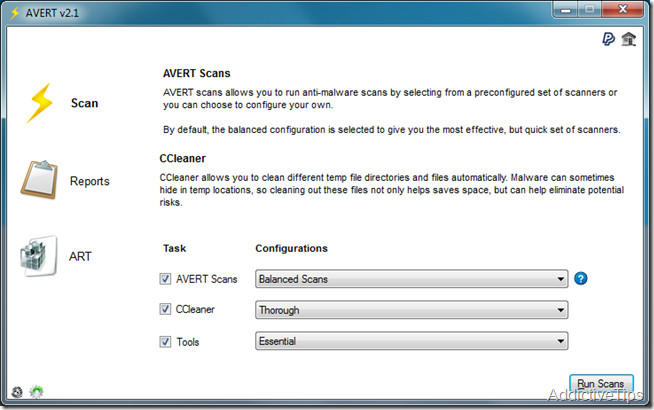 The software is aimed at keeping it simple and easy, allowing one to perform all the necessary functions without going through a lot of options. There are three primary tasks; malware scans, file cleaning and other essential recovery tools (registry related), and you can select the level of depth you want for each of them.
One thing must be clear: AVERT does not have a malware scanner of its own. It uses popular free scanning engines to do its job. Default option in AVERT is the VIPRE scan engine, which can be used without an initial download, but all others need to be first downloaded (which is automatic) and put inside the Scanners folder in AVERT directory. Apart from VIPRE, it supports Asquared, Trend Micro, Sophos, ClamWin, and Panda. Also as of now, this tool supports AVG as the only installed antivirus for usage. Which means that if you are using MSE (Microsoft Security Essentials) or any other antivirus, then it will not work with AVERT.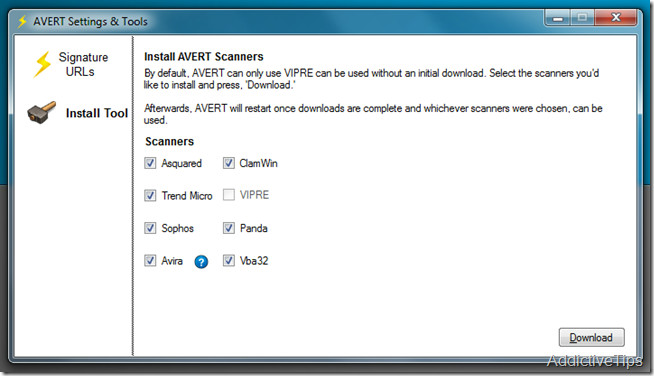 AVERT performs all the general anti-malware features automatically, including scanning, logging and even quarantine/removal. The scanning engines are updated automatically, and you can define paths for download of these files if you choose to use another mirror for them. Also bundled is CCleaner, an excellent tool for cleaning temporary, useless files.
AVERT is an ideal tool for Windows based systems where malware infestation gets out of hand. It is portable, and while my personal recommendation is ComboFix, AVERT is worth giving a shot because of the ease of use that it carries. Please note that such powerful tools must be tried as a last resort. We tested AVERT on a Windows 7 x86 system.