Best Way To Unblock Twitter, Facebook, Pandora, MySpace, And Other Websites
Do you want to unblock/bypass websites, such as, YouTube, MySpace, Facebook, Twitter, Flickr, Bebo, and many others? There are two cases we are talking about here. First is that in many countries some websites are blocked due to government censorship, which prevents users living in that country to access any foreign website and restrict the information they see. Second is that many websites are focused on specific countries, users living outside those countries will not be able to view the content of that website.
Websites that comes under the first category are Flickr, Twitter, Facebook, Youtube, and many others. While the websites that comes under second category are Pandora, YouTube(Movies Section), ABC, and many others.
There are thousands of websites that calm to work, most that used to work have either shut down or have been taken down. Luckily, there is one great proxy tool called IP Hider that hasn't received much attention lately. It solves problem of both situations mentioned in the introductory paragraph.
Note: IP Hider has some restrictions, you can instead try FreeVPN and UltraVPN.
What it does is hide your original IP address temporarily and lets you choose any other IP Address from all over the world. It displays a simple map where you can select the IP address from any country around the world. Sounds too good to be true, right?
Here is how it works, launch the program, click US on the world map and it will change your IP Address temporarily.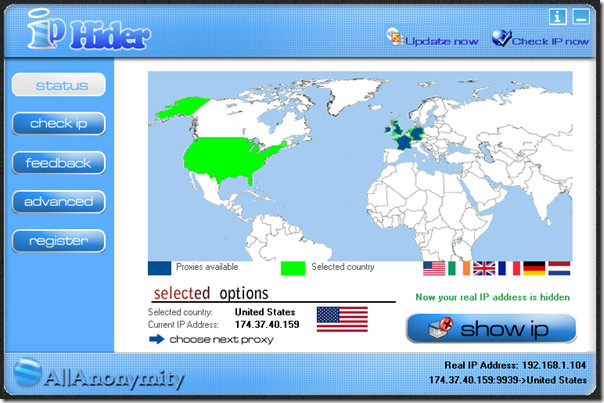 Now visit any website freely without any restrictions. So you ask for proof? Check the screenshot below. 🙂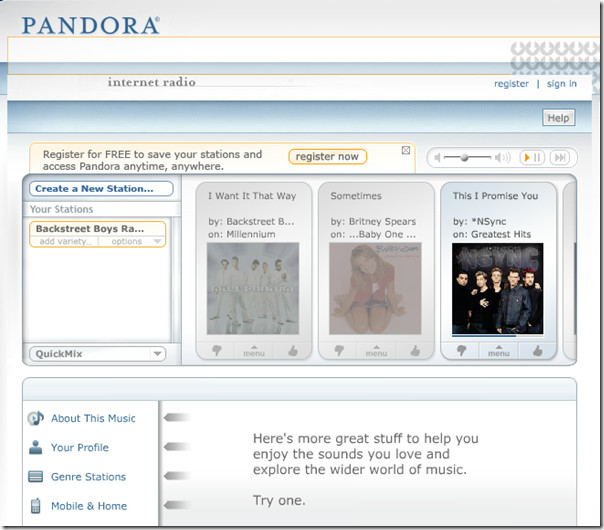 But before you start using this tool, make sure you know some basics on how it works. When you are using anonymous proxy the speed is greatly reduced. You will be able to access blocked websites, but if they contain videos then it will be difficult to watch since the speed over anonymous proxy is not so fast.
Personal Opinions: In my testing Hulu didn't work at all, YouTube movies section loaded just fine and commercials started playing slowly(I closed the window afterwards), but Pandora worked like a charm. Here you have to note that Pandora is a website where you can listen to radio(not video), so the streaming was smooth on my side.
Please also note that if websites that contain information with images is blocked in your country, then it is a piece-of-cake to unblock them using this tool. They might load a little slow, but it is at least better than no access at all.
Premium version of this app is available too, but it costs some bucks. In Premium version you get a dedicated IP address. Since I haven't tried premium versions(I cannot speak as to how it works). Alternatively if you don't feel like paying, there is always HotSpot Shield that works like a charm.
Also Try(Great Alternative): HotSpot Shield
It works on Windows XP, Windows Vista, and Windows 7. Enjoy!