Better Directory Analyzer Removes Duplicate, Hidden And Large Files
It can be quite difficult to analyze reasons for low disk space as one is often unable to locate files which may be consuming a large chunk of the hard disk (particularly in the primary partition). For example, if one has assigned a dynamically assigned virtual disk to a virtual machine, one might over look the virtual hard disk space when trying to locate the cause of low disk space usage. When analyzing disk space issues, one requires analyzing files by keeping in mind a number of factors including hidden, large, duplicate files and file types which may have become redundant as the associated application might no longer be required. For example, you might wish to find and delete virtual disk files left behind by a visualization software which you uninstalled. Better Directory Analyzer is a robust application which helps you get detailed stats regarding the consumption of disk space by files within a specific directory. Some of its main features include visual graph display for largest files, duplicate file removal, hidden file stats display, search filters to identify files more easily and the option to export stats in CSV and HTML format. The aforementioned options not just allow users to view files according to a specific criteria but also enables removal of unwanted files by file size, duplicate files, hidden files and according to a specific file extension.
To get started, select a directory from Select Folder option. Better Directory Analyzer will display a result of the content within the directory according to file name, location, file type and file size to help you identify heavy files. For refining your search you can also use the filters on the top menu including filters to refine search according to a minimum/maximum size and modification date.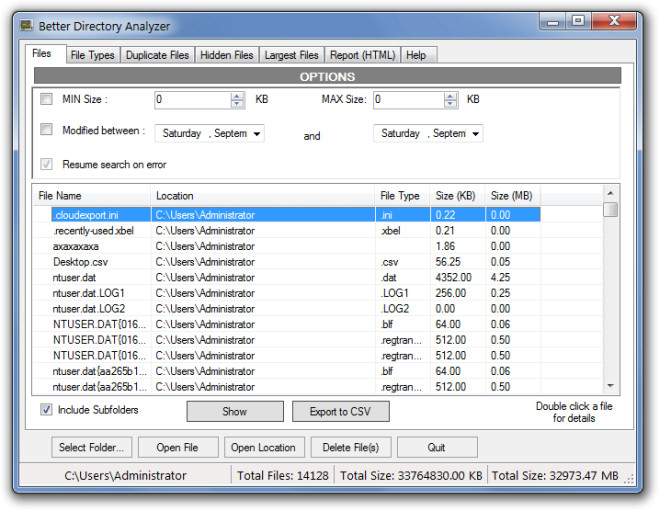 You can view files according to file types from the File Types tab and see a list of duplicate files from the Duplicate Files tab. Duplicate files can be selected and removed via the Delete Files option. Similarly, the Largest Files tab allows viewing the files which consuming the most disk space. This can help you identify and (if required) delete unwanted files which may be consuming too much disk space. You can  save the available data in the form of a CSV file from the Export to CSV button or head over to the Report (HTML) tab and save it in HTML format.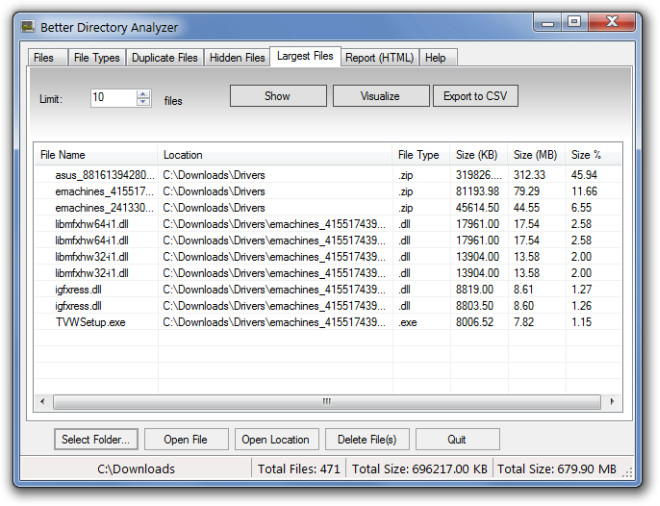 The File Types and Largest Files tabs contain an additional option i.e. Visualize, which provides a visual chart of files within a directory by largest file size and file types.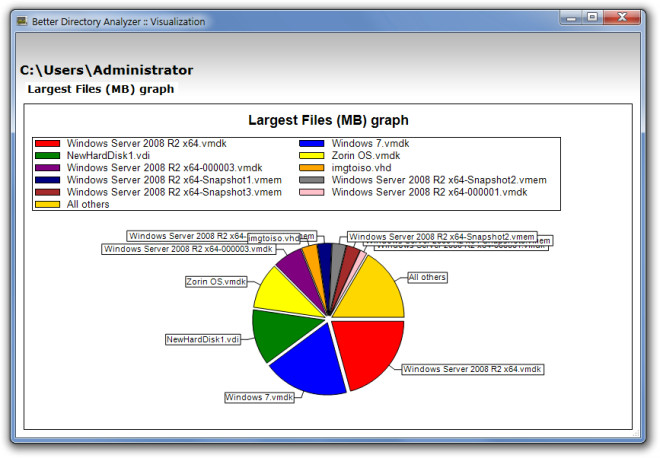 For a quick walk through, watch the video below.
Better Directory Analyzer is quite a handy application as it is able to provide accurate disk space consumption graphs with the inclusion of file types which may be overlooked during a manual search for disk consuming files. Better Directory Analyzer works on Windows XP, Windows Vista, Windows 7, Windows Server 2003 and Windows Server 2008.
Download Better Directory Analyzer