BetterDesktopTool Brings OS X Expose & Spaces-Like Features To Windows
Formerly known as Expose, Mission Control is one of Mac's most talked about features. It gives a productivity boost to your everyday computer tasks by giving you a bird's eye view of open windows, letting you easily locate the one you want to access. This feature has been absent from Windows since ever, and chances are that it may not likely make its way to Microsoft's OS in the near future either. On the bright side, Windows has many third-party tools that replicate, or to some extent even beat, Expose by letting you use and control multiple virtual desktops on one screen. BetterDesktopTool is one such app that provides this facility in a user-friendly design. The application boasts plenty of features and is fairly easy to use.
When installed, BetterDesktopTool resides in the system tray. You can right-click the notification icon and perform further actions on it from the context menu. For instance, you can enable or disable the tool if required, bring up an overview of all current desktops or opened windows, bring all windows to the current desktop or exit the app.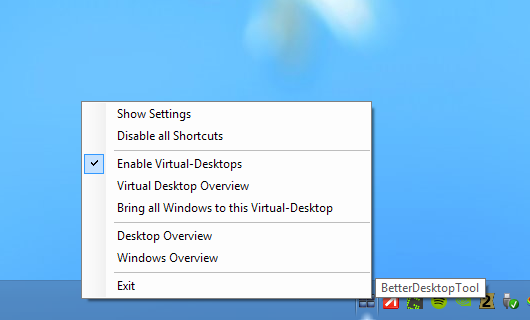 When you click 'Virtual Desktop Overview', the application shows you thumbnails of your current virtual desktops. To give you a gist of how this whole thing looks, we have provided a screenshot below demonstrating an overview of four different virtual desktops.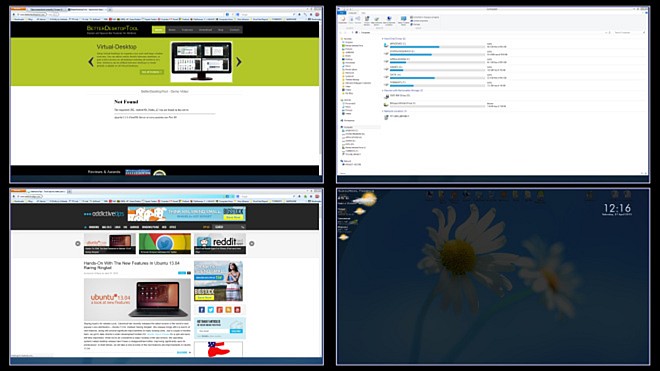 The Settings window of BetterDesktopTool lets you customize it according to your preferences. The application extensively supports hotkeys that makes window management a snap. You can select keyboard as well as mouse shortcuts for the app's key actions including but not limited to showing all, desktop, foreground, minimized or non-minimized windows. Hot corners is another interesting bit that lets users activate these actions by moving the mouse pointer to the corners of the screen as selected by them. You can also change a few more parameters like arranging windows in a regular grid, moving all windows to your primary screen, and choosing to show top-level windows only.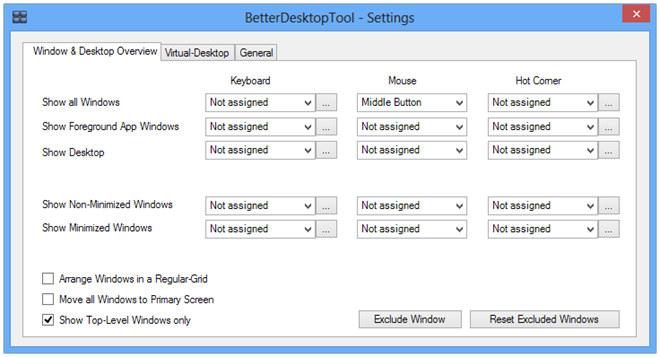 The Virtual-Desktop tab in the middle further extends BetterDesktopTool's functionality and is loaded with a myriad configuration options. The application also lets you control the total count of desktops. You can increase or decrease the desktop count using the vertical and horizontal counters at the bottom. In addition, you will find some really interesting options under Direct Switching. The Settings window also has a General tab on the far-right, which houses some generic settings like checking for (application) updates, launching the program with Windows startup, and some other tidbits.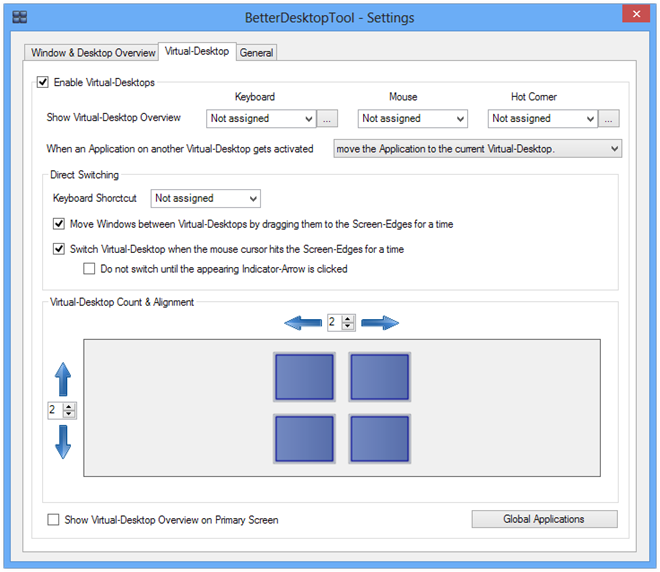 Overall, it's an extremely feature-rich virtual desktop app that lets you play with plenty of options and makes any users coming from Mac feel at home on Windows. Here's a demo video from the developer's site to give you a  better understanding of how the app works.
The application is available in Standard (free for personal use) as well as Professional ($19,99 for a single user license) variants, the latter of which adds some additional features including multi-monitor support and more. Both versions support Windows XP, Vista, 7 and 8.