Bgcall Is A Windows Wallpaper Rotator With Multi-Monitor Support & Customizable Calendar Widget
Everybody gets bored of looking at regular Windows wallpapers. If you are the kind of person who likes to keep their desktop workspace clean and organized, it is likely that you also try out different wallpapers to add to the elegence of your desktop, or even assist you in organizing it. Though the problem is that we come across so many of them on the internet everyday that we simply get spoilt for choice. In such cases, wallpaper changers can prove really useful as they automatically switch different wallpapers for you at regular intervals. Although the wallpaper personalization utility in Windows contains this option by default, it's not available in some versions such as Windows 7 Starter Edition. Bgcall is a small desktop app that not only offers an option to auto switch wallpapers irrespective of what edition of Windows you're running, but also offers a few additional features like multi-monitor support for having an individual background on each screen (that Microsoft only started offering from Windows 8), a customizable calendar over the wallpaper and more.
The application is fairly small at 756KB, and needs to be installed first before usage. Its interface is quite simple too, with all the features accessible on the same screen. The sidebar to the right contains different buttons, most of which basically allow you to import or add wallpapers into the app. First, you need to create a wallpapers list, for which you can simply click Add Files or Add Folders. Alternatively, you can import the list from a TXT file. Bgcall allows you specify up to 8 different wallpaper profiles, all of which can be accessed via the pertaining buttons at the top. Once a list is set, you can specify a few different parameters for it such as size, tile or no tile, refresh time, same or different wallpaper on each screen etc. The multi-monitor support can come in really handy for people running older versions of Windows like XP, Vista or 7. The application also lets you add a calendar widget over the background.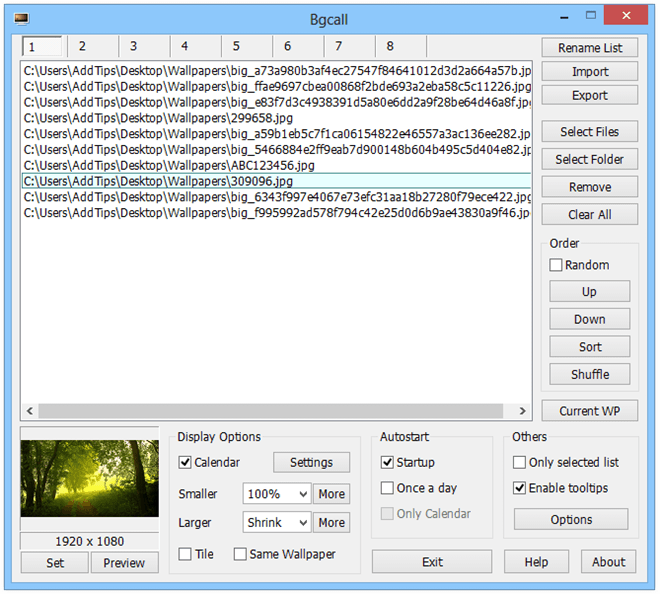 When the this widget is enabled, a small calendar shows up to the top right corner of the screen displaying current date, month and year. The widget uses different colors to indicate weekdays, weekends, holidays and the current date etc.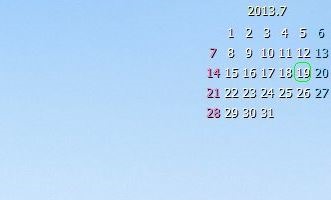 Don't like the way the calendar looks by default? You can easily customize it to your liking by changing things such as the font type, size, colors and style. In addition, you can specify a colored or transparent background for it, toggle year display, change the alignment and reposition the calendar, among a few other settings.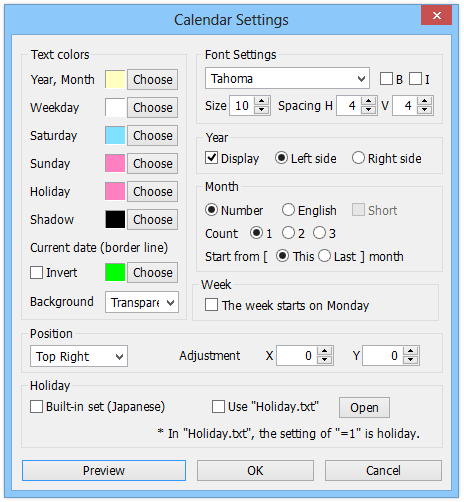 Overall, Bgcall is great desktop app, specifically for those who haven't switched to Windows 8 yet. It might seem redundant for Windows 8 users as many of the options it offers are already available in the operating system, but features like the customizable calendar widget can make it worthwhile on that too. You can get the app for free via the link provided below.