Bill2's Process Manager Controls Every Aspect Of Running Applications
Bill2's Process Manager automates the management of system and user processes and affinity by letting user define rules. It provides an advanced way of handling processes by offering various options and features whilst showing statistics of all the processes and overall system performance. Catering each option which Windows build-in task manager offers, it takes process management to the next level by enabling users to manage created rules in their own way.
The usability ranges from high to grass root level, allowing both advanced and novice users to make full use of it. The main interface has some basic filtering options to view only specific type of processes; user or system. All the system processes are marked red and referred as hidden. The processes in green symbolizes user processes which can be controlled with more options. The unhandled processes can be hidden by enabling the respective option. Right-clicking the processes brings up options like open source folder, create rule for the process, setting priority and affinity, restart/pause/resume process, etc. You can also search for process related information in Google, and open general properties. The bottom part of the window carries generic information regarding all the running instances. To manage rules and categorize them in different groups, click Manage rules and groups, and start managing all rules under selected groups.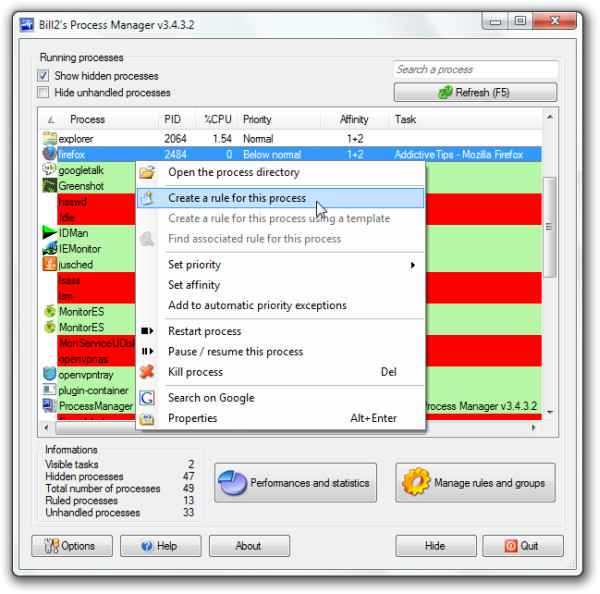 The most useful part is of creating rules for selected process. It adds a level of complexity while keeping the procedure of creating rules simple and easy. You can select priority and affinity with application being opened in normal window or application being active but minimized. This helps in managing CPU usage and mitigate the probable of memory leak. Any application can be controlled in this way and you can prevent them from going way beyond expected memory benchmark.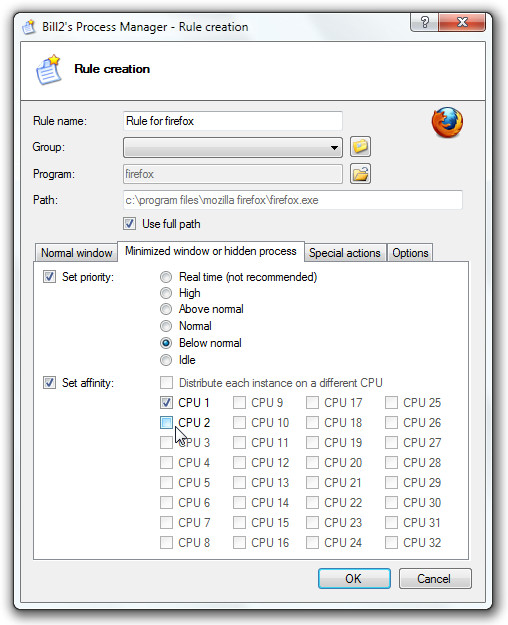 It is further possible to launch another application with an occurrence of specified transgressing event. For instance, you can allocate a limit with an application's CPU usage, on crossing that limit, process will be killed momentarily or you can specify an application to be launched or a kill a set of applications to balance CPU usage. You can also configure aforementioned options when application goes in idle state. These actions can also be triggered with a launch and end of selected application to prevent deadlocks/livelocks. All these type of rules can be created from Special actions tab.
For viewing processes and application related statistics, click Performances and statistics button present on the main interface.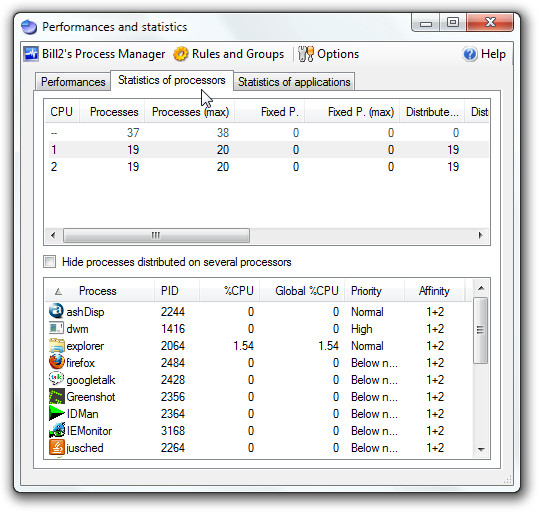 It covers all the needs of an advanced user whilst simple usage steers an average user clear. During testing, it performed smoothly without lagging and showing unexpected behavior. It supports all Windows based OS, testing was done on Windows 7 x86 system.
Download Bill2's Process Manager
For more, check out Process Explorer and ProcessScanner.