Bin Manager – Delete Old Items From Recycle Bin
Windows Recycle Bin lacks the feature to delete items on the basis of time. For example, if you wish to delete items which have been in the recycle bin for last 7 days, then there is no such feature available. Try Bin Manager, a small application which allows users to delete items that were moved today, yesterday, 2 days ago, 3 days ago, 7 days ago, or 30 days ago.
Once installed, it will add an entry to the right-click context menu of the recycle bin. Now you can delete items on the basis of time. Just right-click the recycle bin and choose Delete Items Older Than option, then choose the number of days as per your requirement.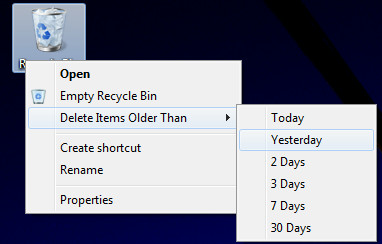 It works on Windows Vista and Windows 7, compatible with only 32-bit. Enjoy!