Bitcasa & Its Unlimited Cloud Storage Come To Android, Windows 8 / RT [Review]
Bitcasa is a relatively new cloud storage service that first appeared on the scene in July with its dedicated desktop client and a mind-boggling offer of virtually unlimited cloud storage for your data backup needs. Basically, the service offers 10GB of free cloud storage to each registered member, who can then subscribe to a $10 per month plan or simply refer the app to friends to get their hands on limitless storage. Adding to its repository of cross-platform clients that till now included a Chrome extension and a Windows app, the service has just released dedicated Windows 8/RT and Android apps to help you easily browse and share your Bitcasa content from your desktop PC as well as mobile device. However, it won't be till January next year that iOS and Mac users will be able to play around with a Bitcasa clients on their respective platforms. Past the break, we'll take a closer look at the various features that the newly-released Windows 8 / RT and Android apps of Bitcasa have to offer.

Windows 8 / RT App
The Windows 8/RT variant of Bitcasa can be downloaded from Windows Store. Go to the Windows Store app from Start Screen and type the app's name in Search Charm to find the app. Simply click the Install button after accessing its store page.
The login screen of Bitcasa looks great, to say the least, boasting full screen Modern UI the way it's meant to be. Once launched, you can sign up to the service with either a Bitcasa account, or your Twitter or Facebook accounts.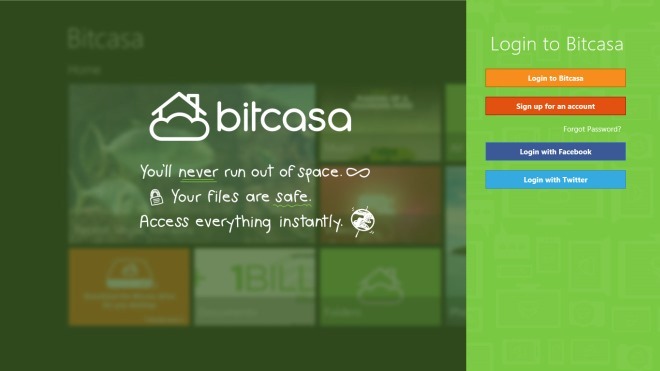 If you're an existing user, click or tap 'Login to Bitcasa' to sign in to your account. All you need to do is just enter your email and password, and click or tap the Login button. The sign-in process is fairly quick and simple. Don't have an account? The app allows you to sign up for a new one as well.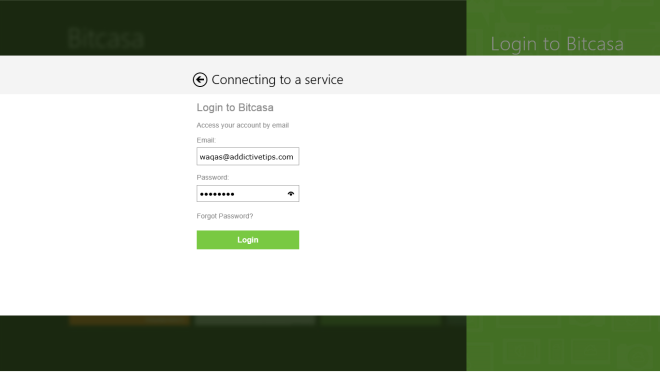 Once past the sign in process, you're presented with the app's main interface comprising a tile arrangement of various navigation elements of the app. The user interface looks simple yet intuitive, and the company's green branding can be seen throughout its various elements. The uploaded files are automatically organized into four categories, each related to its respective folder. These include Music, Photos, Videos and Documents. That said, you can also upload or download any file you want. I couldn't find a way to make new folders within my Bitcasa drive from the app though, therefore it seems like the conventional Windows desktop client or web UI are the only way for creating custom folders.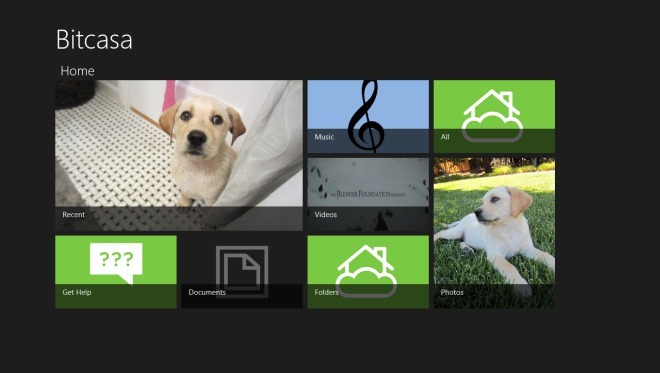 Another area where the app really shines is the ability to preview your media right from the app itself. You can view your photos, stream music and video files, and even preview various supported documents including the PDF, without having to download them or open them in another viewer. Furthermore, music can be streamed simultaneously while you are navigating through other sections of Bitcasa, and the currently selected track can be paused, stopped or skipped anytime from the app bar.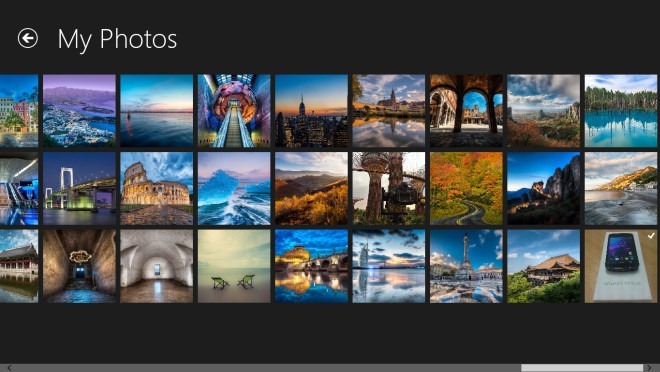 If there's one area I could nitpick, it's the app's poor photo preview implementation. The preview section doesn't let you scale the image to your desired size (zooming, anyone?), and at times even a single image takes ages to render, let alone the thumbnails of a folder flooded with loads of photos.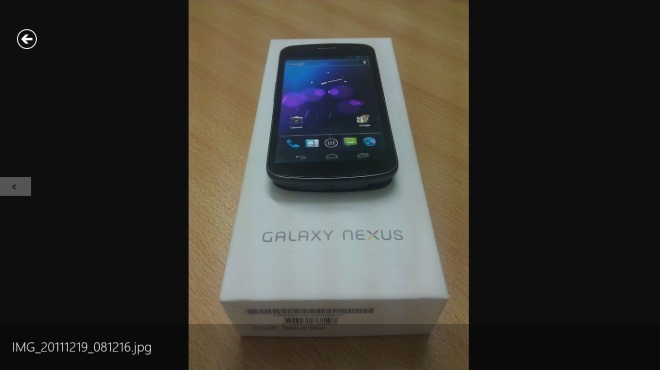 On the bright side however, the nifty document preview feature is a very useful addition. Not only can you view your documents without actually downloading them; you can also share any document instantly via copying it's URL to clipboard. You can then give the link to anyone you want to share the file with, or quickly share it from other Windows Store apps via the Share Charm.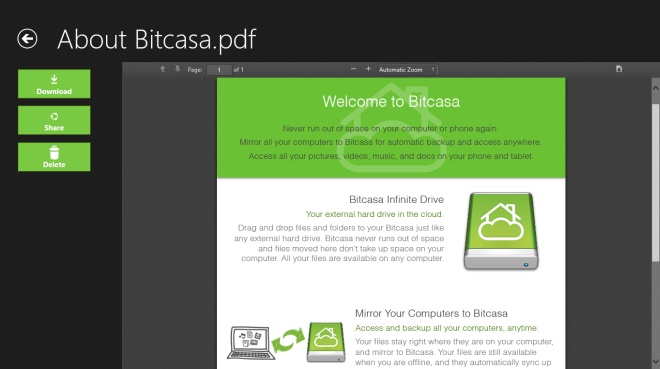 The app bar connects you to a few navigation controls of Bitcasa such as playback controls of an audio track, Upload, Refresh, Logout and File Transfer, the last one allowing you to see the current upload and download progress of your files.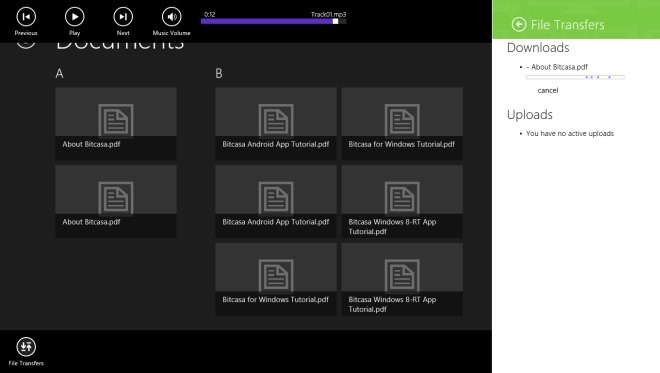 Android App
The Android variant of Bitcasa boasts more or less the same features as its newly released Windows 8/RT counterpart. Once you log into the app, you're able to see your personal Bitcasa Infinite Drive cloud content under various tiles. The largest tile at the top is dedicated to displaying your recently opened file.
The app comes with a built-in Holo-themed music player that lets you browse tracks by artists, albums and songs, and also has background playback support meaning you can continue doing other stuff without interrupting the music playback. In addition, the app supports a built-in image viewer and video player to let you enjoy full streaming of your multimedia content without having to download it first.
Using the app's Add to Favorites feature, you can download select content to your device for offline browsing. Once you hit the star button beside an audio file, or long-press and favorite a file, it is downloaded to your device and can be accessed from the Favorites tile on the app's main screen even when you aren't connected to the internet. Holding down on a file momentarily, you can also share a file with your friends via public links.
For your photo and video backup needs, the official Bitcasa Android app supports an Instant Upload feature similar to Dropbox and Google+, allowing you to push your fresh snaps and video clips to the cloud as soon as they're captured. You can also choose to transfer content over W-Fi only to save up on your data connection usage. Barring your fresh photos and videos, the Android app doesn't support uploading content from the mobile device to cloud, nor does it allow basic file management, which is a big miss considering most rival companies have already been offering both these facilities for quite some time now.
In a nutshell, Bitcasa has created really polished looking apps for both these platforms. Although it still feels fairly lacking when it comes to a number of features and speed, users of this unlimited cloud storage service are likely to give it a warm welcome nonetheless.
Download Bitcasa Infinite Storage For Windows 8 / RT
Abdul Rehman & Waqas Ahmed contributed to this post