BlizzTV – Aggregator For Podcasts, RSS Feeds, Videos, And Live Streams
BlizzTV is a lightweight all-in-one aggregator for managing RSS feeds, podcasts, video streams / channels, and event subscriptions from your favorite sources. It is a compact application that gives quick access to many comprehensive features and allows you to easily add subscriptions, download podcasts and view video streams. With BlizzTV you can easily drag and drop feeds to add them to your subscription and create a subscription catalogue that can be easily viewed within a minimalist interface. Videos can be downloaded from podcasts and from a video stream subscription list within a  few clicks.
Please note that BlizzTV is developed for gamers and e-sports fans who want to aggregate everything in one place. However, non-gamers and tech savvy users can also use it to aggregate their favorite feeds, live streams, podcasts, and videos.
During installation, you are provided with the option to include or exclude modules according to your preference. The available modules allow subscribing for events, RSS feeds, video streams and podcasts. A separate module is specifically available for subscribing for live video streams.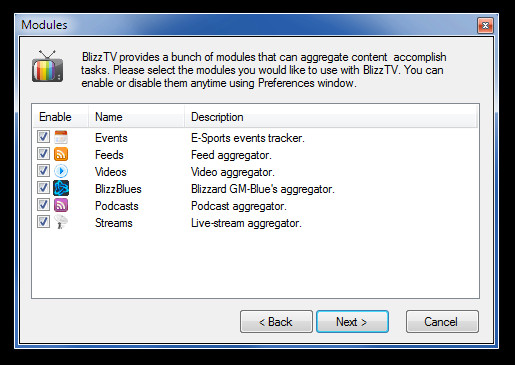 The main interface of BlizzTV displays all the subscriptions in a minimalist format which allows easy identification and sorting of subscription types. You can mark subscriptions as read (either individually or mark all as read), refresh the feeds and add new subscriptions from the Settings option via right-click context menu. By default BlizzTV comes with some added subscriptions including the ones in the BlizzBlues module which contains gaming related subscriptions.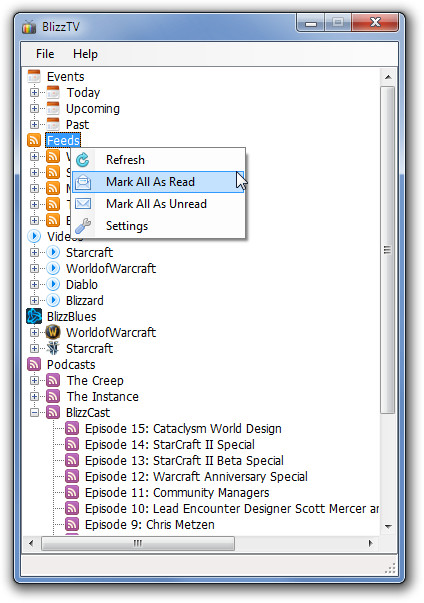 To download a podcast, right-click on it's name and select the Download Episode option.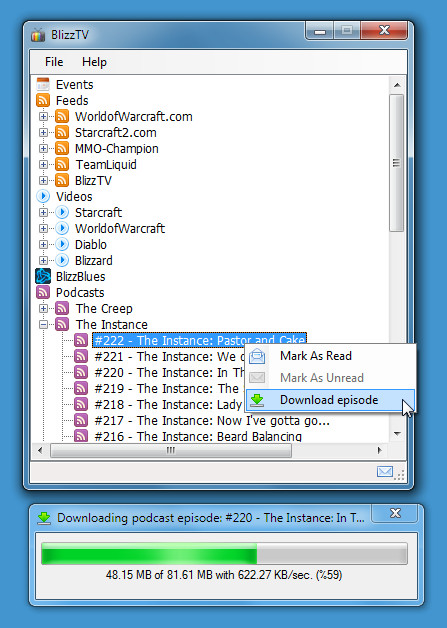 Videos can be directly viewed from subscribed streams by double clicking on them, which opens a separate window where the video begins streaming immediately. To keep track of unwatched videos, you can marked them as read or unwatched from the right-click context menu.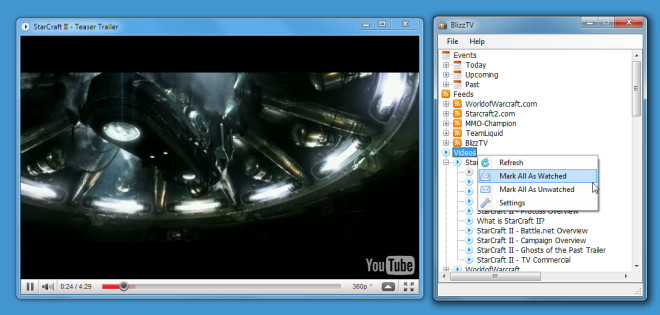 For advanced options and to add subscriptions for multiple modules, head over to Preferences. The General tab in Preferences has options to check for updates, launch at system startup and enable periodic notifications about the BlizzTV beta versions.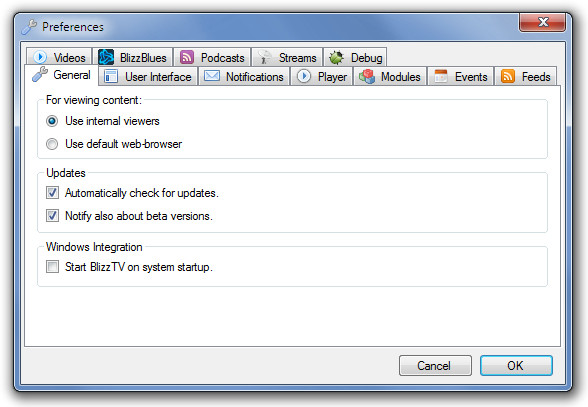 You can add, remove and edit subscriptions for RSS Feeds, Videos, Events, Podcasts, and Live Streams from their respective tabs. Notification sounds, debugging information, etc can also be enabled from the Notifications and Debug tab.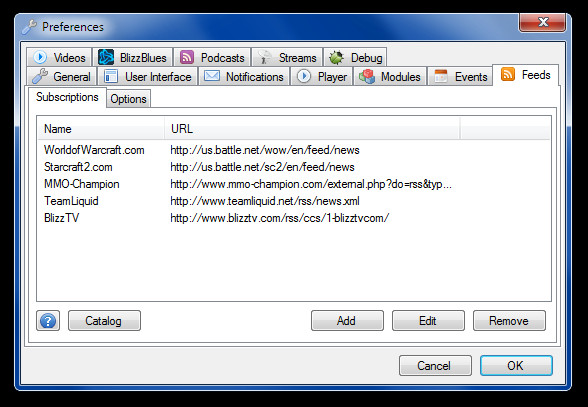 In case you unwillingly left a module enabled during the installation process, you can disable it from the Modules tab. This tab can also be used to re-enable modules (if desired).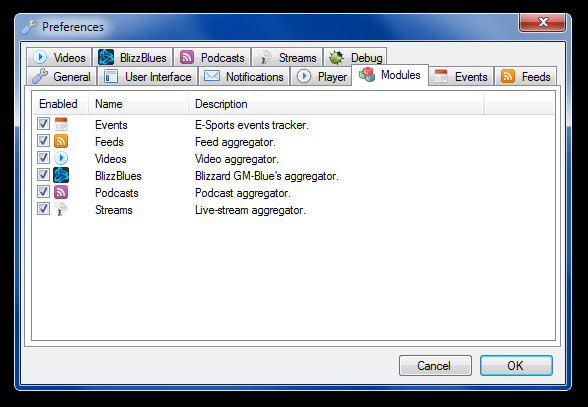 BlizzTV is a comprehensive application that integrates aggregation of multiple subscriptions within a simplified user interface. It works on Windows XP, Windows Vista and Windows 7.
If you are only looking for a cross-platform podcast management software, check out gPodder.