We are reader supported and may earn a commission when you buy through links on our site.
Learn more
What Is A Botnet And How To Stay Safe From One
Staying safe online is an ongoing mission which requires you to learn about new cyber threats and find ways to keep yourself safe. From unauthorised cryptocurrency mining to hacking vulnerabilities on public wifi networks, there are many security threats to be aware of. One type of cyber threat that has gained awareness recently is the existence of botnets. A botnet, from the term robot network, means a group of computers which are linked together and remotely controlled by an unauthorised individual. It is a way that your computer could be accessed and controlled by someone else for nefarious purposes.

Botnets are a particularly pernicious form of security threat as you can become part of one by choosing an unsafe VPN – the software that is supposed to keep you safe can in fact expose you to more dangers! Below we'll explain what a botnet is and give you tips on how to avoid dodgy VPNs that could make you a part of one, then we'll recommend some trustworthy VPNs that can keep you safe from botnets. Read on to learn what is a botnet and how to stay safe from one.
How Does A Botnet Work?
To understand why botnets are a threat, it's helpful to know that they are created from a network of machines which are controlled illegitimately by a person or organisation. The machines that are part of a botnet can include phones and computers like the devices that you personally use, but they can also include servers, routers, and even other computerised devices like shop tills and CCTV cameras. The botnet links all of these devices together so that their combined computing power can be used for the purposes of the botnet controller.
One a botnet has been formed by accessing these devices, their combined computing power can be used for a number of dubious purposes. Some of the common uses of botnets include roping machines into distributed denial of service attacks, in which a website is attacked by having hundreds of even thousands of machines repeatedly trying to access the site at the same time, which causes the server to go down, or spamming, in which devices are used to send out thousands of unsolicited advertisement emails by scraping websites for email addresses. Some other uses of botnets include click fraud, in which a website it set up with an advert on it and then bot devices are used to click that advert over and over to defraud money from the advertiser, or cryptocurrency mining, in which computing cycles are used to mine for Bitcoin or other currencies without the permission of the device's owner.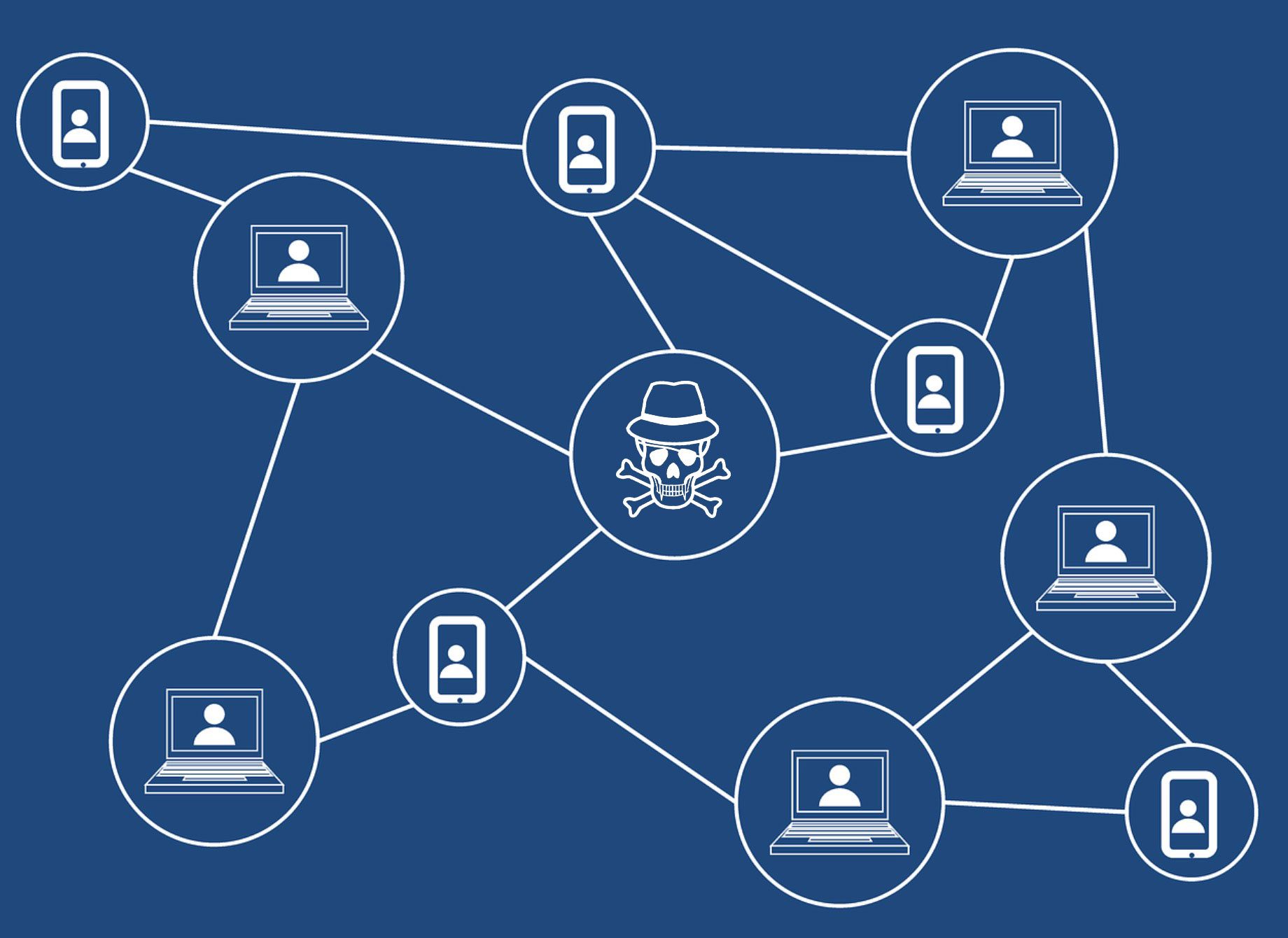 While botnets are most commonly set up and used by criminal organisations, it's worth noting that there are also a few legitimate botnets, in which users give permission for some of their computing power to be used for philanthropic purposes. For example, users can opt into the Folding@Home project which uses processing cycles from volunteers' devices to analyse protein folding patterns in the hope of finding new treatment options for diseases like cancers or Alzheimer's. These botnets are opt-in, meaning that people have chosen and agreed to be part of them voluntarily. In this article, we'll be talking about the criminal type of botnets in which users do not opt in and have their machines co opted without their agreement.
The Problem Of Free VPNs And Botnets
So, now that you know how a botnet works, you might be wondering how your device could become part of one, and how you can avoid this. Botnets used to be less of a problem for private users as they used to mostly target devices which were online but not often used, in order to avoid detection. Many of the machines that were compromised were servers or older machines that were left turned on and connected to the internet, but rarely used by an actual person. This meant that botnets were a problem for IT professionals but not so much for your average user. However, in the last few years botnets have become more widespread on users' devices due to their integration with dodgy free VPN services.
One of the best known examples of a botnet that affected everyday users was the free VPN Hola. Hola used to be a very popular free VPN service that was frequently recommended for users who wanted to stay safe and anonymous while they browsed but who didn't want to pay for a service. However, this meant that the Hola company weren't collecting payments from subscriptions, so they had to make their money elsewhere – and they chose to do that by signing their users into a botnet without them knowing about it, then selling access to this botnet to any company that wanted it. When this was found out back in 2015, it was discovered that Hola users' devices had been used for distributed denial of service attacks, click fraud, and other dubious purposes. People were shocked that a company like Hola that claimed to offer security software was so cavalier with giving out access to it's users' devices.
This is how unsuspecting users typically become part of a botnet. They sign up for a free service or product and give the software access to their devices, then this software is used for unsavoury purposes by the software companies. The best way to stay safe from botnets and to prevent your devices from being used as part of one is to be careful what you install on your device. Make sure that you research any software that you install and check that the company making the software is legitimate and trustworthy. Most importantly, when it comes to security services like VPNs, remember that these things cost money to make and to update, so if the company isn't collecting subscription fees from their users then they must be getting their money from elsewhere. This is one reason that we do not recommend anyone uses a free VPN, and we think it is well worthwhile to pay the few bucks a month for a trustworthy and safe paid VPN.
Our Recommended Safe VPNs
If you're looking for a VPN and you want to make sure that you choose a good one and do not end up as part of a botnet, then we have some tips. There are a few key features that we look for in a VPN that indicate that it is trustworthy, safe, and will keep your data secure:
Good security policies. We look for VPNs with the top notch security features like the use of 256-bit encryption to keep your data safe, and a no logging policy in order to guarantee your privacy.
Fast connection speeds. You don't want connections which are slow as this will make your browsing far less pleasant.
Large server network. To get the maximum use out of your VPN, you want one which offers a large number of servers in many different countries so you can always find a server to meet your needs.
Support for different operating systems. With one paid VPN subscription you can protect all of your devices at once, so we look for VPNs that offer software support for a broad range of platforms.
With these factors taken into consideration, here are our recommendations for VPNs that will keep you safe and never make your device part of a botnet: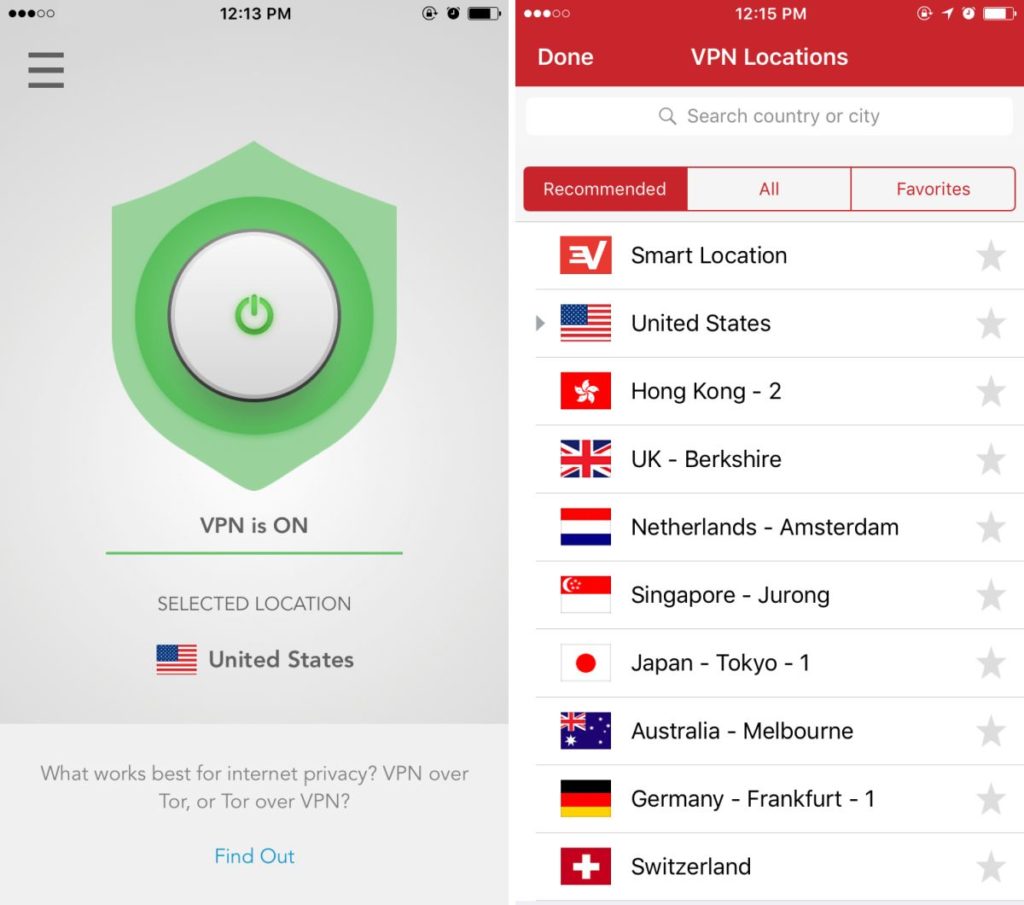 One of the best known and most trusted VPN services among serious internet users is ExpressVPN. This service offers not only lightning fast connections but also exceptional security, with the use of 256-bit encryption and a no logging policy. There are also extra security features available in the software like a kill switch to prevent you from sending data over an unencrypted connection by mistake, an IP address checker to make sure that your IP address is hidden before you browse the web, and IPv6 leak protection to keep you safe.
The server network available to ExpressVPN customers is very large, with more than 1000 servers in 145 different locations in 94 countries, and there is a speed test feature to help you find the fastest possible server. The software can be installed on devices running Windows, Mac OS, Android, iOS, and Linux.
Pros
Unblocks American Netflix, iPlayer, Hulu
3,000+ super fast servers
Torrenting/P2P allowed
Strict no-logs policy for personal information
Customer Service (24/7 Chat).
Cons
Power-users configuration options.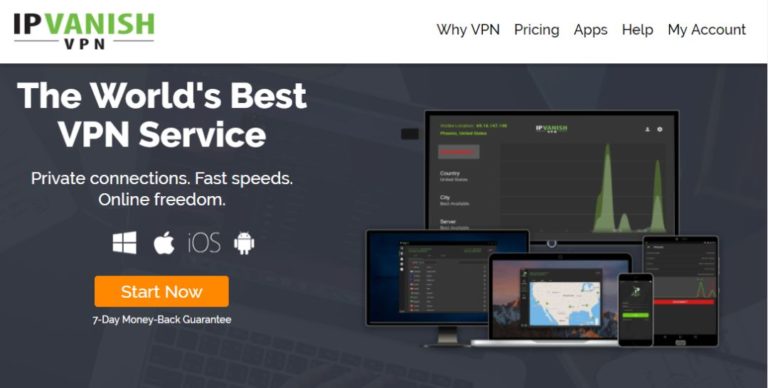 If your biggest concern is speed and you want a VPN that won't slow you down but that also doesn't compromise on security, then we recommend IPVanish. This service has some of the fastest connections we've come across, so you can browse with no delays and download large files quickly, or easily stream high definition video content with no buffering or lag. In addition to the speed, IPVanish has strong security with tough 256-bit encryption and a no logging policy so you can be sure that your online activities won't be recorded.
The IPVanish network of servers covers more than 1000 servers in 60 different countries. The software has many advanced features that make it ideal for serious VPN users, like a kill switch, auto reconnect, leak protection for IPv6 and DNS, periodic IP address change, and manually configurable DNS. You can install the software onto devices running Windows, Mac OS, Android, Linux, Windows Phone, or iOS.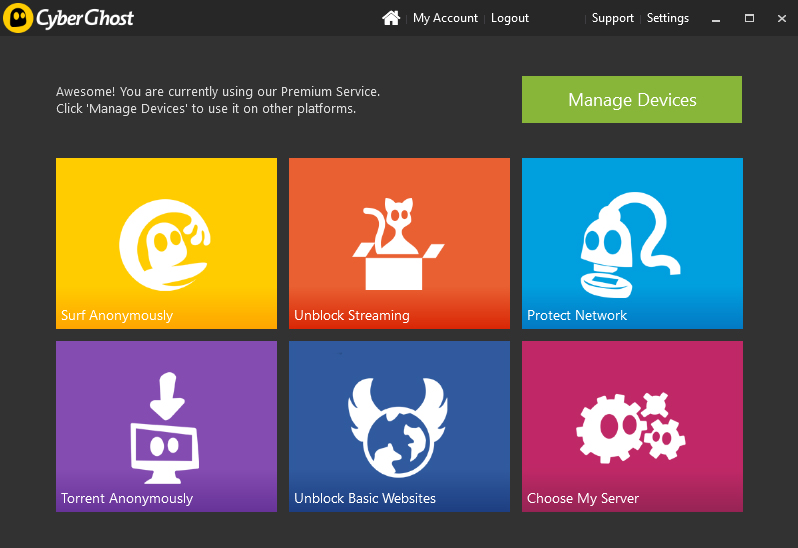 If you prefer a VPN with an easy to use graphical interface, then we recommend CyberGhost. When you open up the software, you'll see coloured boxes with symbols that let you pick the right server for your needs. If you concern is botnets or other security threats, then click on the Protect Network option in the middle right and you'll be connected to a server which will help to keep you safe from cyber threats. The connections use strong 256-bit encryption and there is a no logging policy from the company to preserve your anonymity.
The server network is massive covering more than 1300 serves in 30 different countries, and it includes servers and options for surfing anonymously, unblocking streaming, torrenting anonymously, unblocking basic websites, and an option to choose your own server for your specific needs. The software will walk you through all of the steps to connect to the network and browse safely, so it's great for new users. The software can be installed on devices running Windows, MacOS, iOS, and Android.
Pros
Unblocking Netflix USA, iPlayer, Amazon Prime, YouTube
Fast, constant speeds
Robust encryption standards
No logs policy
24h support.
Cons
Can't unblock some popular streaming sites.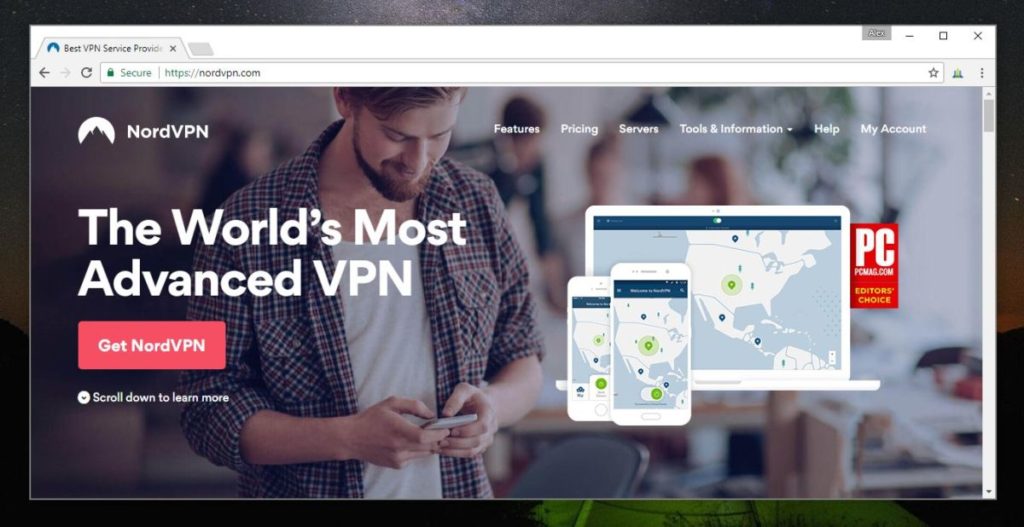 Those users who want the best possible security from their VPN should look into NordVPN. The security features of this service include the typical use of strong 256-bit encryption and no logging policy, but the star of the show is the double encryption feature. This means that your data is encrypted twice over and is sent to two separate servers. The two layers of encryption are practically impossible to crack, so you know your data will be safe. There are also more security features built into the software like anti DDoS, dedicated IP address option, a CyberSec anti malware suite, a kill switch, and custom DNS.
The server network covers more than 1000 servers in over 60 different countries, and the software can be installed on Windows, Mac OS, Linux, iOS, Chrome OS, Android, iOS and Windows Phone, as well as browser extensions for Firefox and Chrome.
Pros
Highly affordable plans
Fast and stable connections
Strong security features
"Double" data protection
Live chat support is available.
Cons
Refund processing can take up to 30 days.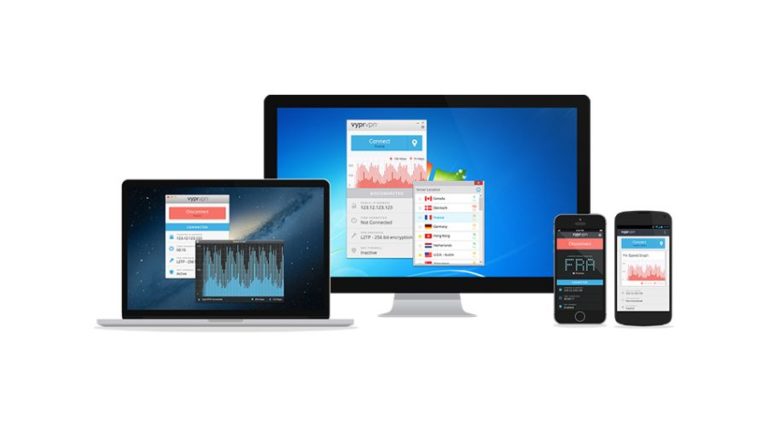 If you want a VPN that you can use even on networks with VPN blocking, like those you find in China or other highly restricted countries, then we recommend VyprVPN. This service can be used even on networks with VPN detection thanks to a feature called the Chameleon protocol. This works by encrypting not only your data, but also your metadata – that is, information about the origin and destination of the data packets. VPN detection often works by comparing the origin stated in the metadata with the apparent origin of the data, and rejecting any connection where these two do not match. By encrypting the metadata as well, you can get around this detection and use the service even on restricted networks.
There is also strong 256-bit encryption and no logging policy to complement this security feature, and the server network covers more than 700 servers in 70 different countries. The software is available for Windows, Mac, Android, and iOS.
Conclusion
A botnet is a network of computers that have been linked together and are used for their processing power without the owners of the devices being aware. Although this used to be a problem that mainly affected servers and other non-consumer hardware, more recently botnets have included mobile phones, tablets, laptops, and other consumer devices too. This is due to dodgy free VPN services which compromise the security of devices they are installed on and sell off access to these machines to dubious companies, like those performing DDoS attacks or click fraud. Worryingly, users often will not even know that their device has been compromised and they continue to believe that the software they have installed is keeping them safe.
In order to protect yourself from inadvertently becoming part of a botnet, you should be careful what software you install on your device. Especially when it comes to security software like VPNs, you should always make sure that you are installing software from trustworthy and above board companies. We've recommended five reputable paid VPN services that will keep you safe and never allow your device to become part of a botnet.
Have you had experience with your device being used in a botnet? What security steps do you take to protect your devices now? Let us know in the comments below.