Breezer – Best Windows Audio Asset Manager For Sound Editing Projects
Are you working on a sound editing or music production project and hate to search through millions of tiny musical pieces every time you want to use them while the track is being produced? It happens quite so often that while mastering the final product, you need to mix a slew of pre-recorded sequences with audio track to get the required sound, but finding the right set of sequences out of huge library is not easy, even if they are properly classified into groups.
An efficient indexer which is solely responsible for finding and bookmarking audio samples may come handy in such situations, such as, Breezer. It is a brand new audio asset manager which offers the convenience of searching tiny samples through humongous audio collection. Breezer is specifically targeted towards professional sound editing engineers, music publishers, music producers, and music composers, who often find it quite challenging to search desired set of audio samples and recorded sequences out of their collection.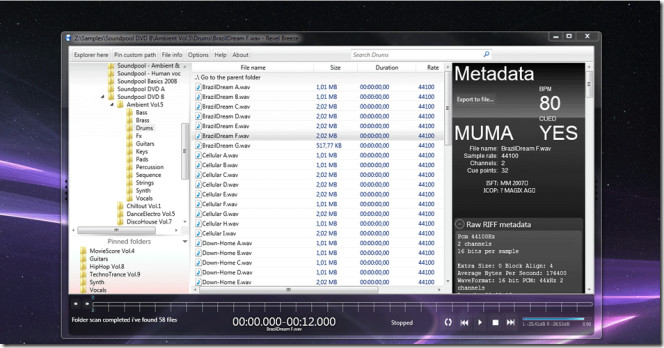 Breezer, apparently, doesn't index your drives to search all audio samples. It smartly finds the audio samples and make a catalog of them, so you can easily search the required track. Search bar is available over the main window to find tracks by their different attributes in real-time.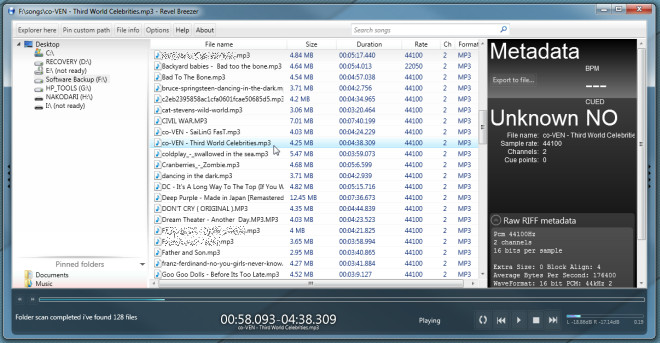 The playback and track navigation controls are lined up underneath the main window. However, you won't have to manually click Playback button to start playing, just hover over the audio file and it will start playing audio track right away. To directly play audio samples in music / sound editing workstation, like, LMMS, just drag the file from its main window over the workstation to add or play it.
You can also open the selected file in Windows Explorer from right-click context menu. Here, it also allows locating selected track in folder browser, opening parent folder, copy audio track source path to clipboard, open Windows sound mixer and so on.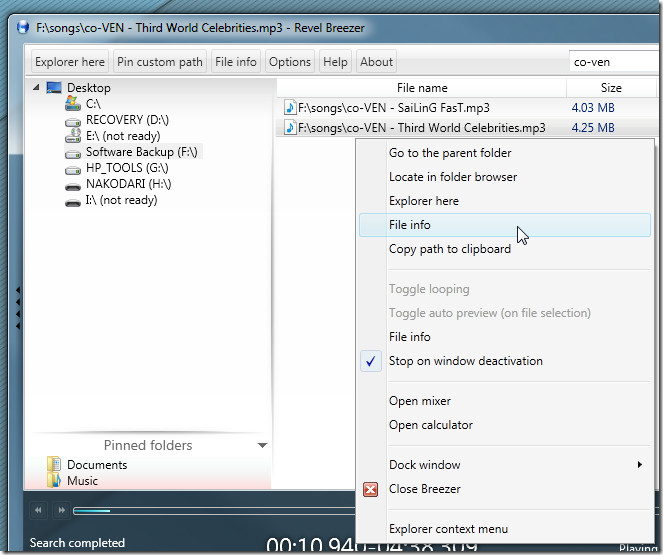 The folder pinning is another note worthy feature. It lets you pin all sound editing project related music folders in Pinned folders section, so you can easily access them without having to select them from folder hierarchy.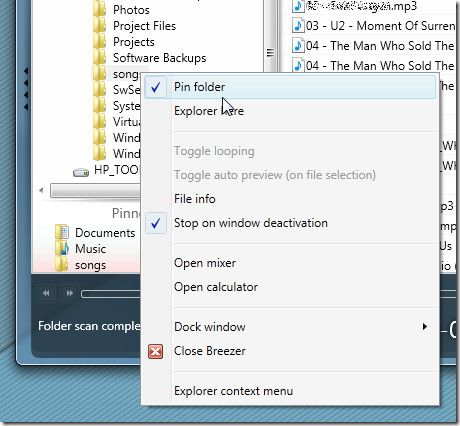 The Options window holds settings for audio latency rate, Snap Scrubber, and file and folder explorer, and search options. It works on Windows XP, Windows Vista, and Windows 7, provided you have .Net Framework 4 installed already.