Browser Forensic Tool: Analyze The History Of All Installed Browsers
For those of us making good use of the internet, usage history is a vital feature in browsers to remember useful searches and links that aren't bookmarked or didn't get that opportunity due to a browser crash. Many of us, use multiple browsers at various moments in time depending on the ease of functionality. Video streaming may be done on one browser, while work related data on another. This scatters the history among various browsing streams and makes it tedious to search and retrieve links scattered in the past. Browser Forensic Tool is a powerful utility that lets you perform local browser history searches based on multiple user-specified keywords or categories, helping you determine how many times a particular keyword is appearing within the history each installed browser.
This application supports simultaneous searches on popular browsers, which include Internet Explorer, Google Chrome, Mozilla Firefox, RockMelt, Comodo Dragon and Opera. There are pre-defined profiles already saved and displayed under the keywords categories section in the active window. You can select a profile of interest to view the keywords and perform the scanning accordingly. Similarly, you can check the Remove duplicate entries option to avoid any repetition in the results.

To begin scanning, just use the Scan button on the bottom left corner of the window. Please note that this tool performs the operation only after ensuring that all browsers are closed. Therefore, the prompt window shouldn't surprise you as it automatically closes browser activity upon your agreement to begin scanning.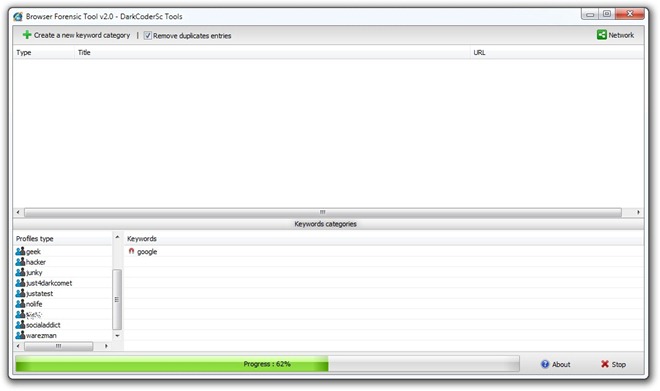 The progress is then illustrated through the bottom bar with the relevant percentage. At any point, you can stop the search and begin any important activity. The multi-thread feature also enables you to perform multiple tasks simultaneously without halting the process. To define a new category with a list of required keywords, click the relevant button on the toolbar.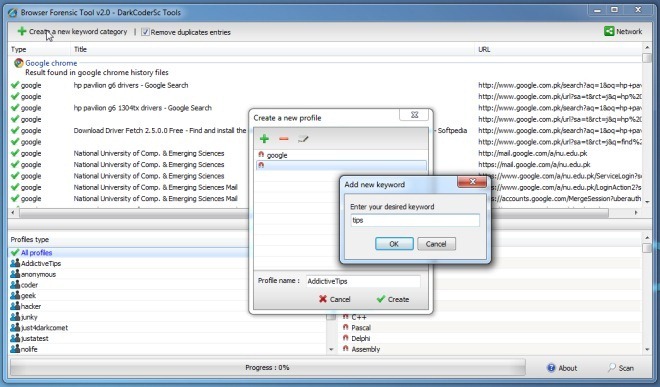 You can easily add, remove and modify keywords in any category by accessing the Create a new profile option. The history entries is displayed in a listed format according to all supported browsers. The relevant browser-specific history can be collapsed to organize the data. Any specific link can be easily opened in the default browser by right clicking the entry. Similarly, data can also be exported by right clicking a category or entry. To view the spread of usage related to one or more keywords, the Browser Statistics window illustrates the results in an appropriate way.
Browser Forensic tool enables you to perform comprehensive searches for desired keywords and categories for retrieval of links from browsers. Moreover, you can also deduce which browser gets most of your attention statistically. We tested this application on Windows 7, 64-bit edition, while it is fully compatible with Windows XP, Windows Vista, Windows 7 and Windows 8.
Download Browser Forensic Tool