BuduIP Identifies Unauthorize Network Usage
BuduIP is a network IP identifier which helps in identifying all the prying eyes who are either trying to gain access to your home network or using it without being authenticated. It also comes useful in a corporate sector where network administrator needs to find out all the allocated and vacant IP addresses.
To identify all the IP address, you would need to take a single step; a complete Scan of IP addresses. The main interface shows the network IP range, you can change IP address to start from and change Ping Timeout value. Clicking Scan button will begin scanning the specified IP range. At lower part of the window, it shows IP address list being scanned followed by either Vacant or Taken detail.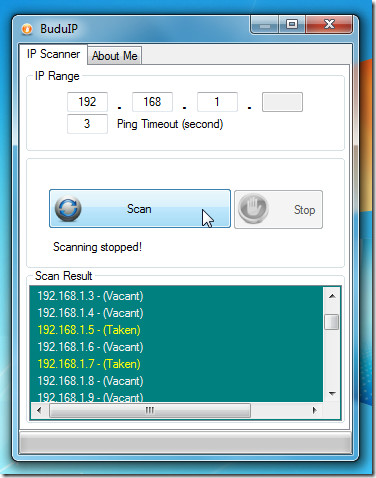 Once you have found out the unauthorized Taken IP address, you can instantly call it off. The Vacant detail lets you easily allocate it to a new system attached on the network. The application comes in handy in situations when you are skeptical of peripherals or any other services being used without your permission.  To identify these prying eyes or to allocate the vacant IP address, try this application out to quickly fulfill the need in question.
It runs on all Windows based OS, we tested it on Windows 7 x86 system.
For more, you can check out  inSSIDer and outSSIDer