DVD Author Plus: Burn High Quality DVDs For Any Player, Clone Existing Disks
There was a time when you had to go out and buy a video camera if you wanted to create a video recording of an event. Nowadays, almost every other handheld device, such as mobile phones, tablets, iPods and laptops, have a camcorder bundled that allows you to take pictures and record high quality videos. Anyone fond of recording videos does not have to buy a separate camera for casual recording. YouTube is the perfect example of how many people record motion using handheld devices and share them with others. Uploading a video on to the internet is a good way to share it with a large number of people. However, if you want a more private audience, burning it onto a DVD is a good option. You can burn a video on a DVD and distribute it to others without the risk of unauthorized people getting their hands on it and watching your precious memories. This way, there is also a lower chance of someone stealing your video and using it as their own. Today, we have an application called DVD Author Plus that allows you to burn DVDs that can be played on any standard DVD player. You can create DVDs containing videos, data, image, create copies of disks and erase disks.
The application allows you to choose different Aspect Ratio, Video Format and Video Quality for creating the digital disk. The program itself is really easy to work with, as all the main options are available on the main interface, and you don't need to go into different menus for selecting basic settings. At there top, there are buttons to choose the type of DVD that you want to create, such as DVD Video, Burn Data, Burn Image, Make Image etc. You can also view the Disk Info and Drive Info by clicking their respective buttons.
To create the CD, navigate to the required files using the folder tree available at the left side, and drag the files to the Storyboard section at the bottom. From the right side, you can choose the Disk Title, Aspect Ratio, Video Format and Video Quality. Click Next at the top right when all settings are done.
If you have multiple DVD writers, you can select the one you want to use for burning the file and select a custom Write Speed. An Event Log will display details about the writing process. The Disc Information and Drive Information allows you to view details about the DVD writer attached to your computer and the DVD.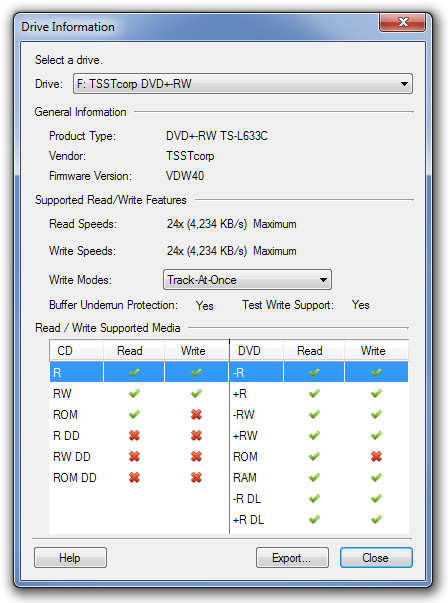 DVD Author Plus works on both 32-bit and 64-bit versions of Windows XP, Windows Vista, Windows 7 and Windows 8.