Calculate Total Time Spent On Tasks And Bill Your Clients With Ticks
Need a simple, unobtrusive, and an elegant time tracking application which also allows you to properly bill your clients? Try out Ticks. It's a tiny time tracking application with sleek interface to note down the time you spend on multiple on-going projects. The application is specifically created for freelancers who need an efficient yet distraction-free time tracking application to automate the process of billing their clients. What makes it different from other time tracking applications is that it takes just a few seconds to enter project and billing related details, such as, project title, hourly rate and increase in billing rate, to start calculating total time spent on tasks and to bill your clients accordingly. You can quickly add new projects and to make changes in listed project and billing info from the system tray icon.
First off, click its icon in system tray to add timer for new projects. Click Add a new timer and enter the required project and billing details. Now hit Save to list it on main screen whilst you can add more timers by following the same procedure.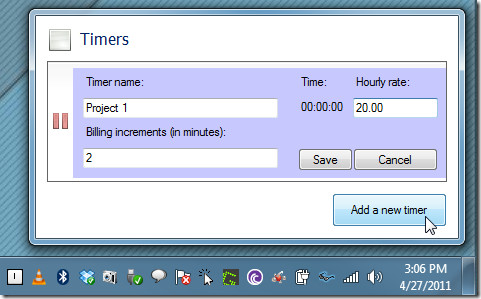 Once all the timers are entered, you can click play-imaged button present adjacent to each timer. It will start calculating total billing amount according to set hourly and increase in billing rate. A click on Pause button will stop the counter.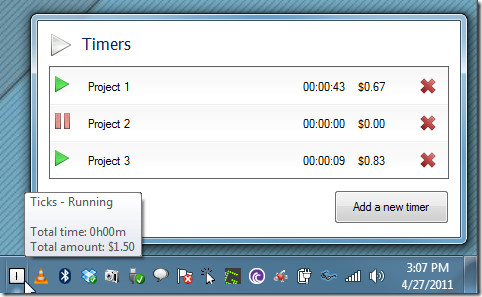 To quickly start and stop all the listed timers, right-click system tray icon and select the required option.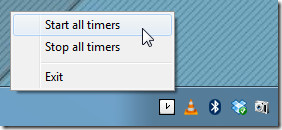 You can watch the video below which explains the usage in detail.
It works on Windows XP, Windows Vista, and Windows 7.
Looking for an advance time tracking application with more options to customize billing criteria? Have a look at Grindstone and True Time Tracker.