Capture And Download Google Maps Images Quickly
Too bad Google Maps doesn't have a Print option, if you want to capture any part of the map, the only way left for most users is to to take a manual screenshot of the whole area and then crop it using MS Paint. This method is kind of useless, since you will have to paste various parts of the map and then stitch them together.
Google Map Buddy is a 3rd party tool for Windows that allows you to download any part of Google Maps and save it as an image. It makes downloading any part of the Google Maps a breeze. Just load up the tool, hit Select Area, and select the area that you want to download.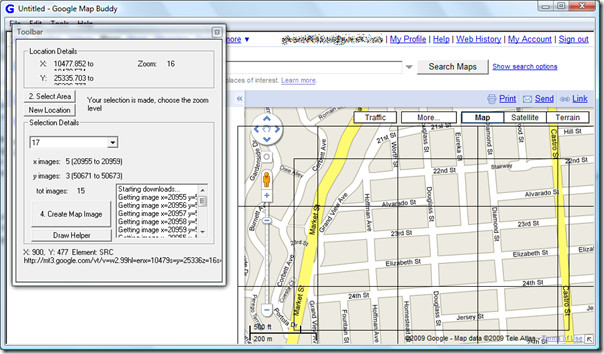 Click the image above to enlarge
Next, you have to select the appropriate zoom level and click Create Map Image. There is also a Drawer helper option that adds a drawer to the Google Maps. When saving any part of Google Map Image, make sure to end the image name in .jpg format.
Note: The time taken to Download and save the Google Maps image would depend on your internet connection.
It is a dead simple app that does the job pretty good. The benefits of using such tool is that it allows you to print the maps of entire cities and areas more easily.
It works on all versions of Windows. Enjoy!