CCleaner 3 Brings Drive Wiper Tool, HTML5 Storage Cleaning And More
CCleaner has come a long way since its first release as CrapCleaner back in 2005. Recently Piriform released the 3rd version of CCleaner, which includes new advance features and options to enhance the overall cleaning process. According to Piriform, major changes includes 64-bit native EXE written for x64 systems, Drive Wiper tool to securely erase content to free up space on drives, and cleaning support for HTML5 database storage and for MS Silverlight isolated storage.
Along with these primary enhancements, the application is also improvised with some UI changes, offering the same but more spruced-up interface. It also includes a new intelligent cookie keeping functionality while improved support for IE9 and Google Chrome is also provided. Another noteworthy improvement is support for latest AVG Antivirus 10.0, Audacity, LogMeIn, BitTorrent and Windows Game Explorer. Furthermore, now 64-bit system users can clean Windows Log files without facing any problems, as Windows 64-bit Log files cleaning has also been re-worked to give the best cleaning results.
Lets take a brief look at all changes.
The Drive Wiper tool can be accessed from Tools window, just click Tools in left sidebar followed by Drive Wiper in navigation pane. It offers two options to wipe local drives and any connected external storages – Free Space Only and Entire Drive. As their name implies, Free Space option will remove redundant data, zero bytes files/folders whereas Entire Drive will look through the whole drive and securely clean the drive accordingly. As as far as meeting the security standards are concerned, it also lets you choose algorithm from given list which includes; Simple Overwrite, DOD 5220.22-M (3-passes), NSA (7 passes), and a staunch file shredding Gutmann algorithm with 35-passes.
For the first time usage, you will be prompted to enable intelligent cookie removal. This will exclude all those cookies which contain login details. However, if you need to keep cookies of some websites or any visited location, open Option window, click Cookies, and from Cookies to Delete list, move all websites which you want to exclude from cookies removing process to the Cookies to Keep list.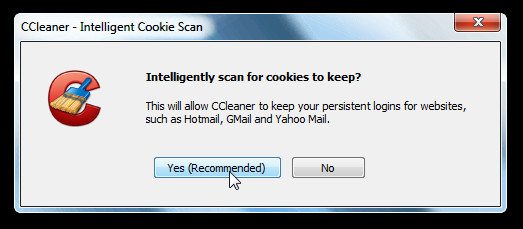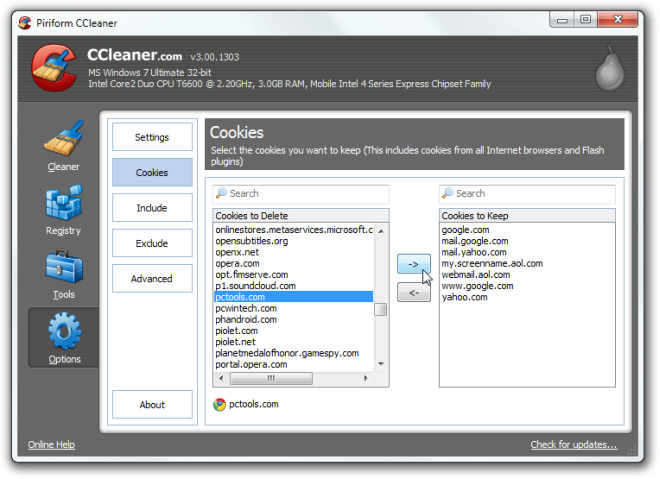 From Cleaner –> Applications, you will see new additions in application list, such as BitTorrent, Microsoft Silverlight, Audacity, Windows Game Explorer, you can now remove all the junk files of respective applications.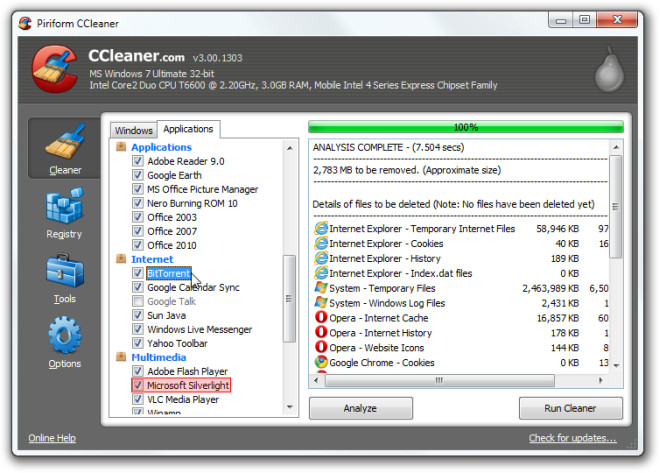 Along with these apparent improvements, it brings a great deal of changes and advancements which will improve the overall cleaning experience. You can review the detailed changelog here. The latest version was tested on Windows 7 x86 system while it supports Windows 2000, Windows XP, Windows Vista and Windows 7 (both 32-bit and 64-bit OS versions are supported).