Change & Delete Assigned And Unassigned Drive Letters With DriveLetterView
Want to check out all the drive letters which are free and not currently assigned with any local drive, network drive, CD/DVD drive or with any external storage device? DriveLetterView is an application developed by Nirsoft which lets you view both plugged and unplugged drive letters in one window. The application is designed to analyze all the drive letters which can be assigned to any new device or location. It not only shows all the available drive letters that can be assigned but allow users to edit drive letter of USB devices and network locations/shares with an option to remove the drive letter of USB device with a single click. Once all drive letters are listed down, you can export the list in simple text file or in CSV, XML, and HTML format.
To check all the available and currently used drive letters, unpack the downloaded ZIP file and run the executable. It will immediately display assigned and unassigned drive letters with information like Drive Type, Drive Name, Drive Description, Connection status, Instance ID, and Device Path in multiple columns.
From right-click menu, you can change drive drive letter, export report in HTML format, and view selected drive letter properties in separate window.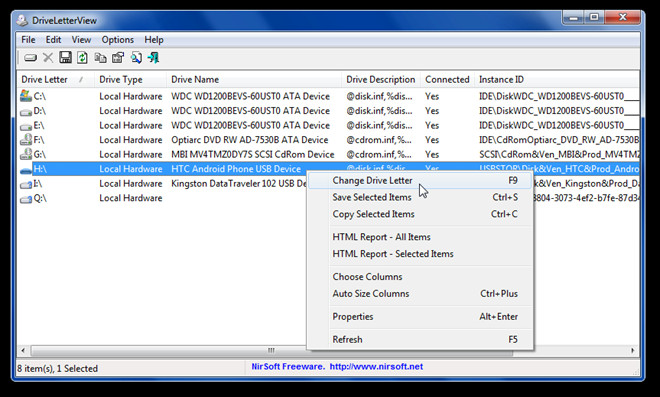 Before assigning a new drive letter, make sure that you are assigning a drive letter which hasn't been assigned to any other device, local or remote location. As mentioned beforehand, you can delete drive letter of only unplugged USB drive. To delete the drive letter, select USB device from the list, click Options menu followed by Delete Selected Drive Letter.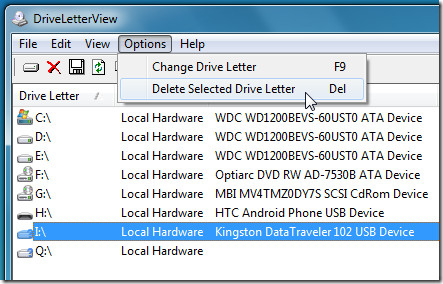 DriveLetterView offers a quick solution to change assigned and unassigned drive letters for any type of storage device and network locations. It works on all version of Windows.