Quickly Change Windows Default Printer From System Tray
If printing tasks and managing multiple printers is something you do routinely, especially when dealing with massive amounts of printing jobs is part if your routine every day, this tool, WPrinter Lite, can help you out. Basically it just adds a tray icon that you can right click to quickly switch between the available default printers, and open the printers' settings with a double-click. Useful if you have multiple printers for different purpose.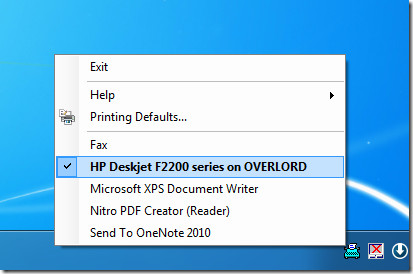 The Lite version is capable of doing nothing more, except changing the printer and also changing the tray icon color for all different printers. There is a Pro version available as well (which is not free, of course) but adds a plethora of features such as customization of printer name and icon, set orientation and number of copies without standard menus, use keyboard shortcuts, etc.
WPrinter Lite works on Windows platform. We used it on Windows 7 x86 version.
For more, also check previously reviewed Automatic Printer Switcher.