Change Your Default Browser In A Single Click
If you are a web developer or just another addicted internet user, using multiple browsers makes sense. Not all features that you want can be found in one browser, so how will you make another browser as your default. Just a note to the beginners, when you make any browser as default all links are then opened using the that browser.
BrowserTraySwitcher is a free system tray utility for Windows that allows you to change your default browser in a single click. This tool is for few niche users who have to constantly change their browsers for certain needs. Mouser, the developer behind this app has explained the reason for using this tool in the link given at the bottom.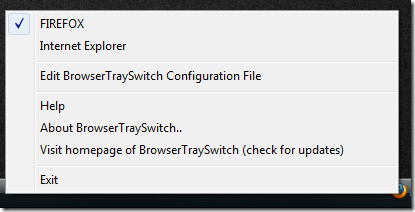 Before you run this program, it will make a backup of your registry in case something goes wrong. It will add all browsers that it detects to the system tray context menu list, and if it doesn't find a specific browser, you can always add it manually.
It works on all versions of Windows. Enjoy!