Chat With Facebook Friends On Desktop With FacebookDiscovery IM Client
Earlier, we came across a list of useful IMs clients, some integrates Facebook chat service like, Digsby, Pidgin, and Adium while others are written solely to bring chat service to your desktop, like Facebook Desktop Standalone and Chit Chat for Facebook. Today, we discovered, FacebookDiscovery, which brings a new idea of discovering Facebook contacts. It appears as a desktop sidebar widget, listing down all of your online friends, family members, and peers in their respective contact groups, so you can chat with them and update your status without having to open a browser and log-in each time.
The application interface is highly-extensible, you can stick it up in any corner of the screen to keep a tab on online friends. Being an effective Facebook IM, it lets you chat with your online contacts, providing all the little chat features of traditional desktop IM clients. After the installation, you can access it from system tray to view the online friends and to update your status. For the first time usage, it will dock at the right side of the screen, however, you can always change its position. To chat with an online contact, just double-click it from the list to bring up a separate chat window.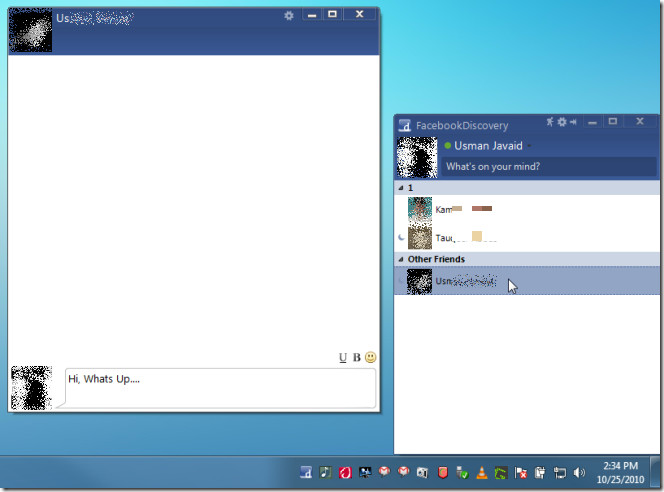 From the right-click menu, you can change the profile picture size or disable it completely to view only the status icon and refresh the contacts manually if you're using a slow internet connection. All of your contacts group are collapsible, if you are an avid Facebook user with a lot of contacts, collapsing a group would let you focus on only specific group(s).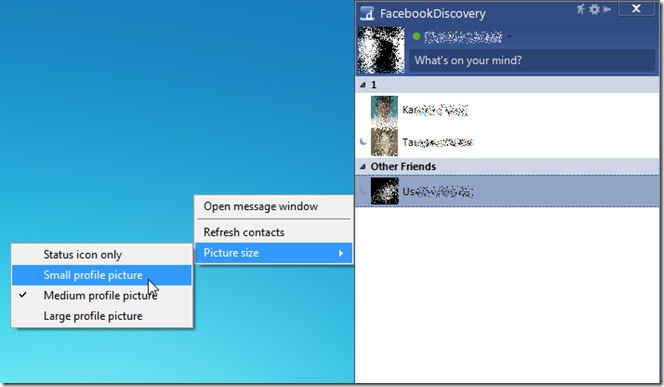 The application settings contains a list of options under different tabs to change some general configurations and behaviors. Under General tab, all the contacts in the list can be sorted by Name or Status, profile picture options can also be defined. You can let it start with Windows logon and enable interface shadowing by enabling the respective checkboxes.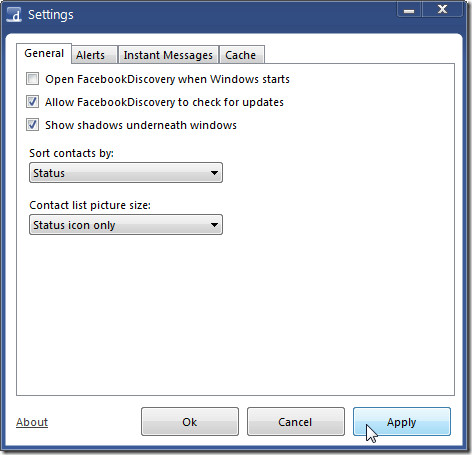 Under Alerts tab, it lets user specify alerts in different situations.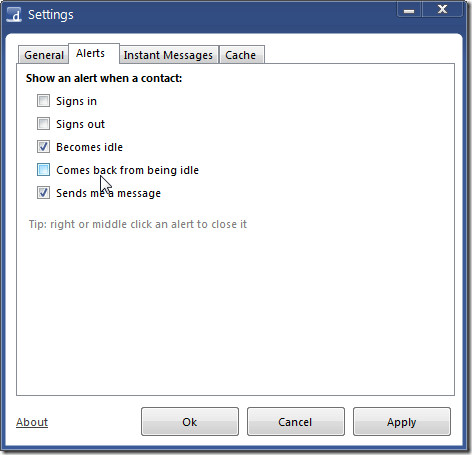 From Instant Messages, you can disable chat history (which is enabled by default), enable/disable sound alerts, etc.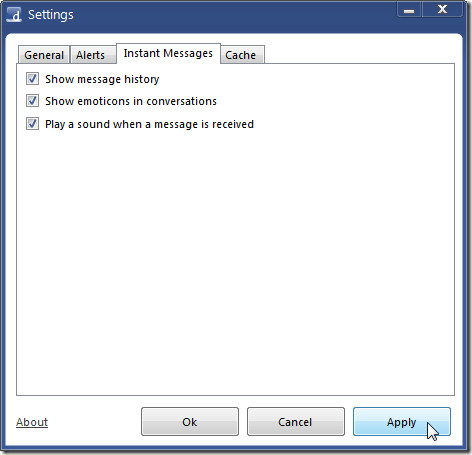 Apart from some functionality specific lags, the application works fine. Testing was done on Windows 7 x86 system while it supports Windows XP/Vista/7.