Check Data Fragmentation Level And Defrag Drives With My Defragmenter
It is always advised to analyze system drives for data fragmentation before starting off with defragmentation process. Unfortunately, both Windows Vista and Windows 7 native defrag tools can't recommend drives which have to go through defragmentation process for gaining quicker access. To quickly check drives and perform data defragmentation, try My Defragmenter – an application with dead simple usage. It is however not comparable with previously covered Defraggler by Piriform in terms of features but can be used to quickly check which drives need defragmentation. It analyzes your auxiliary storage drives to check whether data defragmentation will do any good or not. If you don't not sure what is data defragmentation, it is a process of arranging data contiguously in order to increase the access time. With My Defragmenter, you can schedule defragmentation to run the process at defined intervals.
The main interface presents all the system drives with general information about the disk space and last defrag results. Before performing defragmentation of selected drive(s), click Analyze to check whether disk defragmentation is required or not.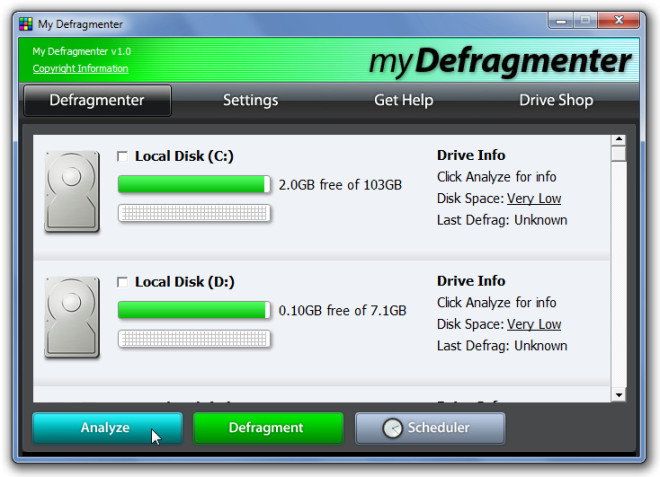 We recommend analyzing all the system drives to find current fragmentation status. After the disk analysis is finished, it will show you the data fragmentation percentage while showing which drives need defragmentation. Now select the suggested drive(s) and click Defragment to begin the process.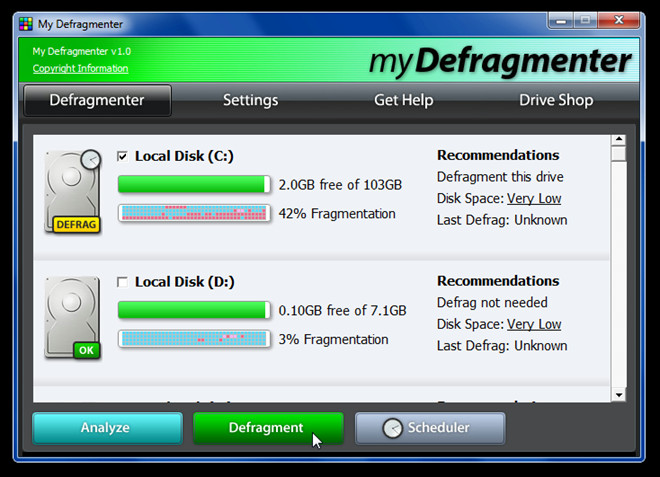 After defragmentation is complete, check the drives again to view the level of data fragmentation. To schedule the defrag process, click Scheduler and set time to defrag disk at defined time. It works on Windows XP, Windows Vista, and Windows 7.