Check File Security Issues And Analyze Integrity With FileAlyzer
Analyzing file properties becomes quite tedious task when you have to use different tools to examine checksum, file integrity, security loop holes and so on.  This means that multiple applications need to be installed on the computer and data from these programs is required to perform a complete file analysis. Instead of performing these laborious tasks, you can use FileAlyzer. It's an application that shows file content in a HEX dump format and other properties such as file integrity, anomalies (if any), classification sources, hashes, meta tags and a lot more. Moreover, you can verify file integrity via online sources such as VirusTotal and ThreatExpert. According to the developer, FileAlyzer was named this way due to a typo, but he decided to keep the name.
To get started, open a file with FileAlyzer to obtain in depth information about it. The General tab displays verbose information about the file. This information is almost similar to information, which is accessible from Windows File Properties dialog. This includes the file name, extension, creation date, location, size, date, times, version and attributes. The information provided in addition to what you find in Windows Properties Dialog, includes CRC-32 and Message Digest 5 checksum of the file.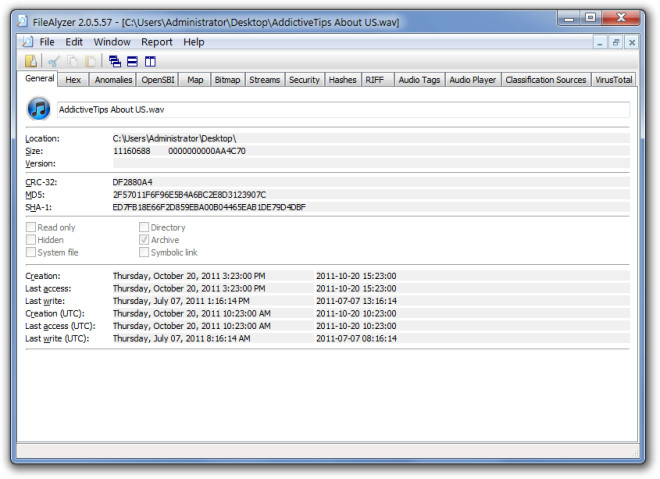 The Hex tab contains a HEX viewer with search bar to search HEX values from the file content. It shows the dynamic width of HEX dump and string recognition listing. Similarly, the OpenSBI tab provides file name, path, time stamp and other information, which can also be obtained from the General tab. The Map, Bitmap and Audio tags tabs contain information such as tags (if any), a graphical display of the file (if applicable), and other resources such as icons, text menus, dialogs and the like.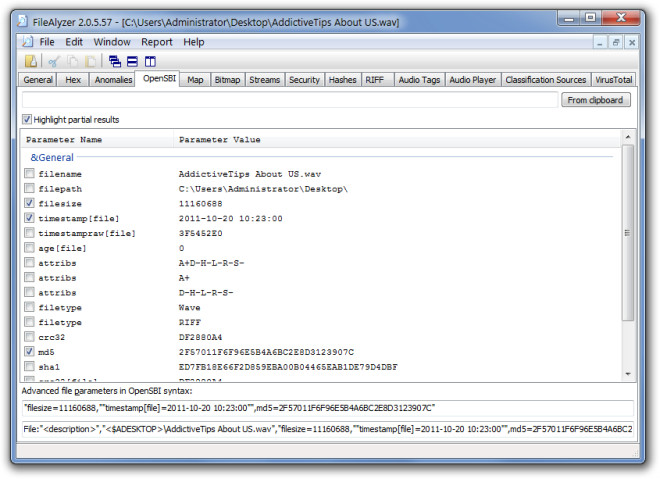 Hashes help users verify both file security and integrity. From Hashes tab, you can select hashes which are to be calculated including the CRC check, Message-Digest algorithm and US Secure Hash Algorithm.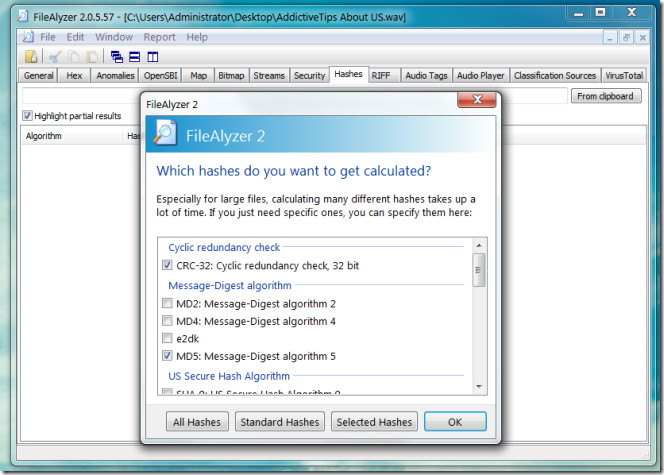 FileAlyzer provides a number of sources to obtain information regarding  file's attributes, security and integrity. You can obtain this information via the Classification Sources tab, which provides a number of online resources such as Google, Bing, Yahoo, ThreatExpert, VirusTotal and Comodo for quick file scanning.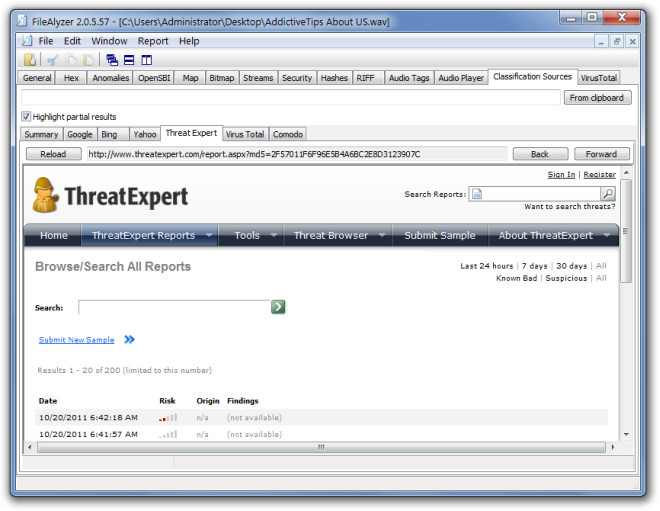 FileAlyzer is a comprehensive tool that enables you to obtain in-depth details regarding a specific file, without the need for multiple applications to perform the tasks. The acquired data can be saved in TXT, HTML and XML format. FileAlyzer works on Windows XP, Windows Vista and Windows 7.