Quickly Check Hard Drive Crash & Fix it With CheckDrive
If you're using the very same hard drive which you've bought some 5 years ago, you might be on the verge of encountering a serious hard disk crash (we are not saying that it will crash, but old hard disks have high probability of crashing). Even though the hard drive monitoring tools are abundant and have multiple options & features to go around with. CheckDrive comes in straight to address this very problem, as name implies, it is a dedicated tool for analyzing, fixing and generating a complete hard disk report. It is especially built for detecting & fixing hard drive crashes and for checking disk health after an improper shutdown.
The snappy interface will let you easily start checking disk for potential threats & problems. On first time launch, it will automatically detect number of disk drives and list them on the top of the window. All you need is to click on disk drive which you want to check to begin the disk checking process.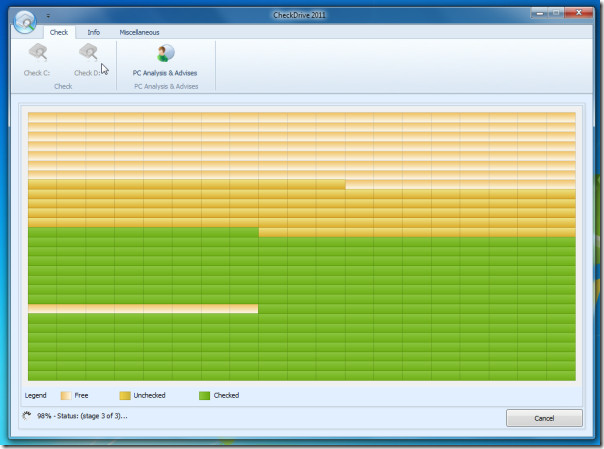 Once drive inspection process is finished, a message box will pop-up informing the disk health. If any errors are found, it will prompt to fix them.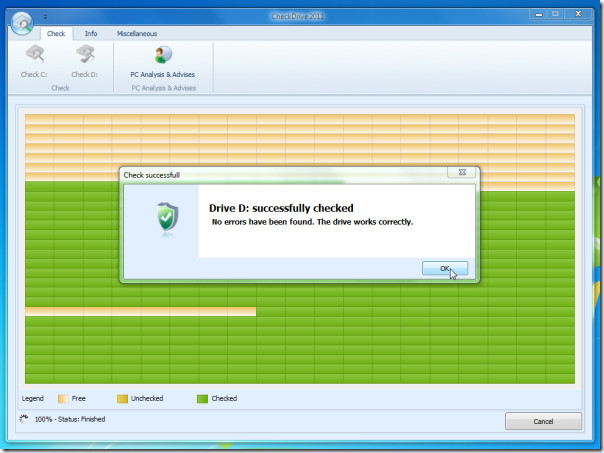 Despite the fact that it is not full-fledged hard drive inspection tool, it can comes in handy when you'd need to check and fix the disk drives for any potential crash.
It runs all Windows based OS including the latest Windows 7. Testing was carried out on system running Windows 7 x86.