Check If Your PC Meets The Windows Holographic App Requirements
Microsoft is one the bigger companies dabbing in virtual and augmented reality. It's headset, the Hololens should be available to consumers some time next year. The Hololens is going to be expensive and it's going to require a fairly decent system to run. If you have the cash to spend on a Hololens headset, chances are you have a system that can handle its requirements. To be on the safe side though, you can run a check to see if any of your hardware components need to be updated. This check can only be run if you have the Windows 10 Insider Build 14971 running on your system. Here's what you need to do.
Use Cortana to search for Windows Holographics. From Cortana's results, select the 'Windows Holographic First Run' option.

When the Windows Holographic app runs for the first time, it will run a system diagnostics scan. Click the 'Get Started' button on the app's main screen to start the scan.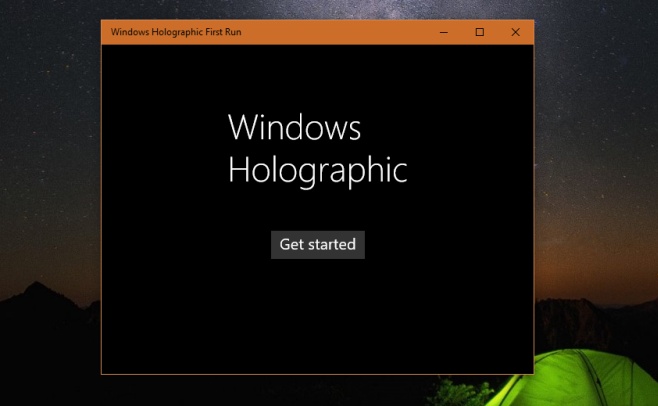 The scan completes within seconds and shows you which of your hardware components are compatible and which are not. It also tells you what the minimum requirements for each component are.
For example, your CPU must be 4 cores or more and your video card must support DirectX 12.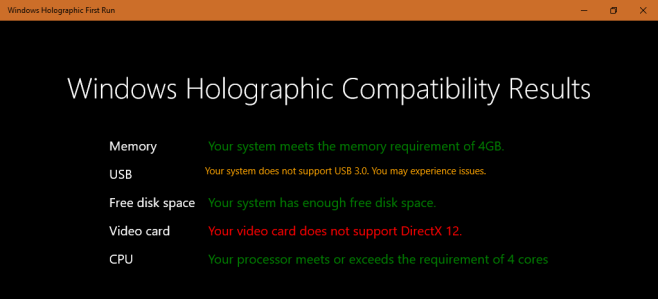 The results are color codded. The components in green indicate hardware requirements that match or exceed the minimum requirements to run the app.
The results in yellow indicate hardware shortcomings that can impact the experience you have with the app but that are not necessarily an impediment to running it.
The results in red indicate a hardware component that fails to meet the minimum requirements. If you do not update the hardware indicated by the app, you will not be able to run it. You certainly will not be able to connect and run the Hololens.
The Hololens is still in developer beta and we know for a fact that it will be expensive. It does seem to require more modest system requirements than the Oculus Rift so perhaps the cost will even out for those who can afford it.