Check USB Drive & External Hard Disk For Read/Write Errors
H2testw is a small portable utility developed by a German but comes with an English interface as well. The original purpose of the tool is to check for read/write errors and other errors in a USB drive. It can also be used to check for errors in any external hard disk or network drives.
Apart from it's basic original purpose you can also use this app to verify the disk space in the USB or external hard drive that you bought from the market. There are thousands of sub-standard USb flash drives in the market that show false indication of size, you can verify the original size by using this app.
All you have to do is to select the target and hit Write+verify button. It is recommended to write + verify the drive on all available space(default option) but you can choose to write to any defined number of MBytes.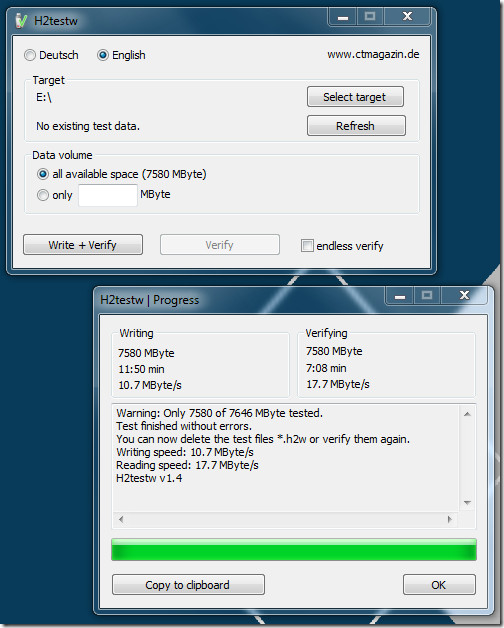 All errors found are listed in the Progress window. In case someone is selling you a corrupt drive which cannot write data properly, you can always verify it using this app. Apart from the errors you will also find the average read/write speed listed, which can help you in choosing the drive that is the fastest.
Your drive should be formatted before giving this app a shot, also make sure to backup all important data present in the USB or external hard disk.
Download H2testw (Site is in German, click Download and grab from the first Download link)
It is a portable tool which works on Windows 2000, Windows XP, Windows Vista, Windows 2003/2008 Server, and Windows 7.