Chronolapse Creates Time Lapse Video Of Your Desktop / Webcam Captures
ChronoLapse is an open source app for creating time lapses and stop motions. It is a must-have tool for users who love creating time lapse videos using either screenshots or webcam captures (or both). The application, besides having the ability to create time lapse videos of screenshots and webcam captured images, offers plentiful of features which includes, schedule time lapse job, adjust, resize, rotate saved images, annotate saved images and videos, picture-in-picture composition, encode photosets into videos, and dub audio over video files.
Each provided feature can work in isolation, meaning, that you wont have to capture images through it, you can for instance take screenshots from any other app, and apply ChronoLapse provided functions, like, annotate, resize, image adjust, rotate, etc., over them.
On the main interface, first, enable Screenshots and Webcam option, and specify Time between capture. Once done, click Configure present with both options to set up screenshot taking and video recording operations.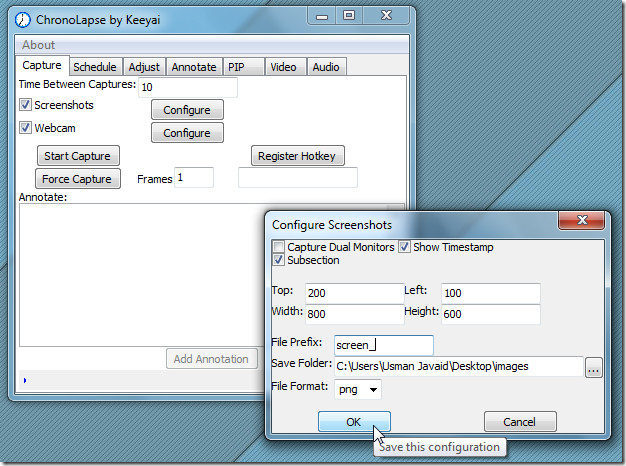 After configuring option of saving time-lapses, you can enter keywords used as annotations over images. You can also register hotkey combination to quickly start capturing screen. Once done, click Start Capture to begin capturing screen and webcam images after defined amount of time. If you hate creating time lapse photosets manually, move to Schedule tab to let it automatically start and stop the capturing process. Just specify the Start and Stop Time and then activate the scheduler.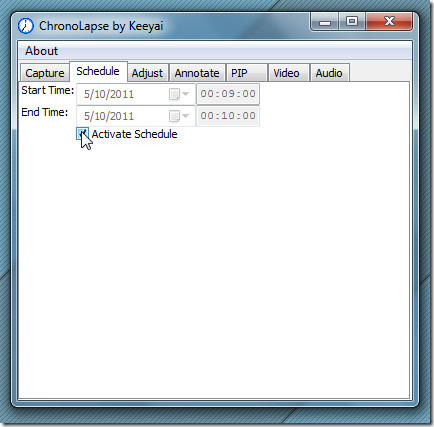 Under Adjust tab, enter source and output path of image directory and then specify actions, like resize and rotation, to apply them over all the images in bulk. Similarly, Annotate tab is used to annotate source images with user customized font and colors. You can also view all the annotated images from here.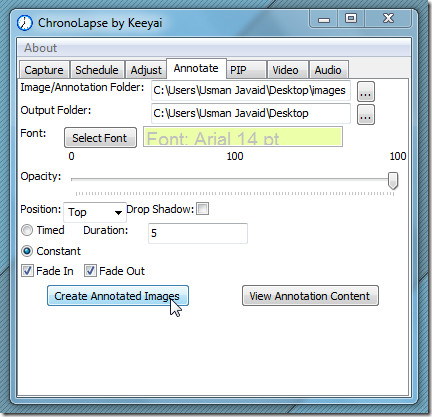 The Video tab refers to specifying images to convert them into video. Here you can also specify video format, codec, and frame rate. Before creating video, you can check estimated total video length. Adding audio to video is simple. Head over to Audio, specify video source followed by audio source and output folder to begin adding audio to specified video.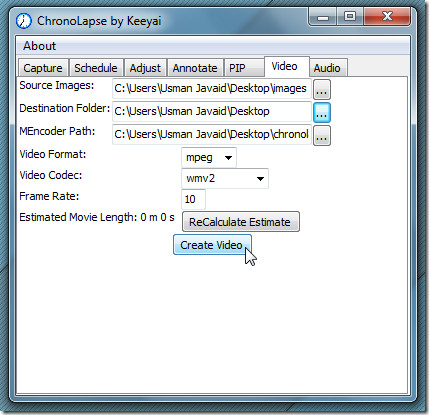 Chronolapse proves to be one complete images time lapse creation tool. Features like images to video and annotation with capture configuration settings allow multi-level customization for creating time lapse photoset video. It works on Windows XP, Windows Vista, and Windows 7.