Cinelab Is A Simple Video Editor For Windows 8 And RT
Almost every major modern computer platform offers some kind of video editing feature. If you have been following us for a while,  you must have come across our coverage of dozens of video editing tools for iOS, Android, Windows and Mac OS X. Today, we are bringing you video editing application for Windows 8 called Cinelab. While not exceptionally feature-laden, the app allows you to edit and merge your video clips into a single seamless file. The output file is processed and converted to MP4 format, and then saved to the directory of your choice. The interface looks clean, simple and easy to use, and is fully optimized for Windows 8 PCs and Windows RT tablets.
To download Cinelab, open Store app from the Start Screen and highlight the Search Charm. Type 'Cinelab' in search and press enter. From the search results, select the app and then click or tap Install.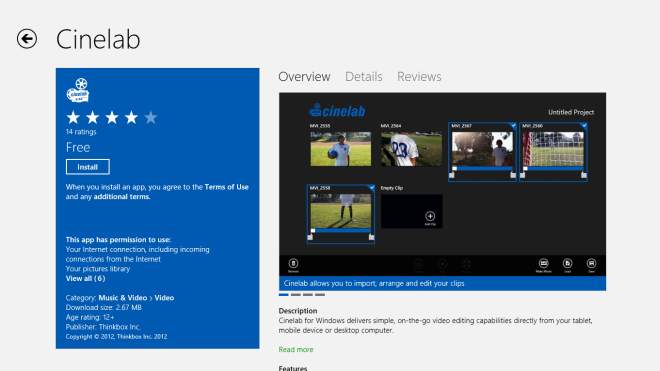 Upon launching Cinelab, you will be presented with its dark UI. At first, the app displays only a single tile with a small 'Add Clip' button to its right. Clicking or tapping this button allows adding additional video clips in form of tiles. The interface also contains three more buttons at the bottom named Rewind, Play and Review. The Play button starts playback of the selected video as a Live tile, while the Rewind button starts the video from the beginning.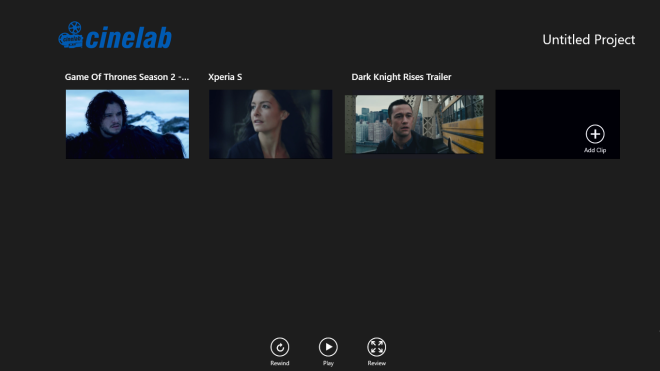 Lastly, the Review button plays the selected clip in Full screen mode. It's worth mentioning that the app lacks a seek bar, so you can't skip the video to a required section during full screen playback.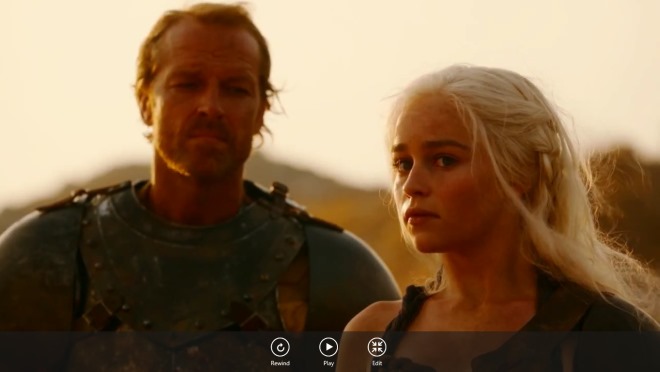 You can tweak some application-specific settings by clicking Settings in Charms Bar, followed by Export Options. You can make video and audio quality adjustments, specify average video bit rate in kbps, and toggle Audio Export.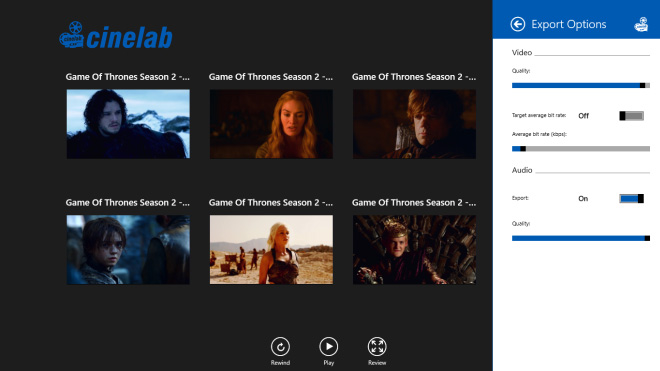 Editing a clip is fairly easy. The selected clip shows a mini slider using which you can crop your desired video section. You can drag a video clip left or right in order to adjust the sequence of the final clip. You can also right-click anywhere on the screen to bring up additional navigation controls at the bottom. This includes Clone (to duplicate the selected tile), Select All, Clear Selection, Remove, Undo, Make Movie, New, Load and Save. The Save button enables you to store your project, so you may pick up the editing from where you left off. Clicking 'Make Movie' begins the conversion process.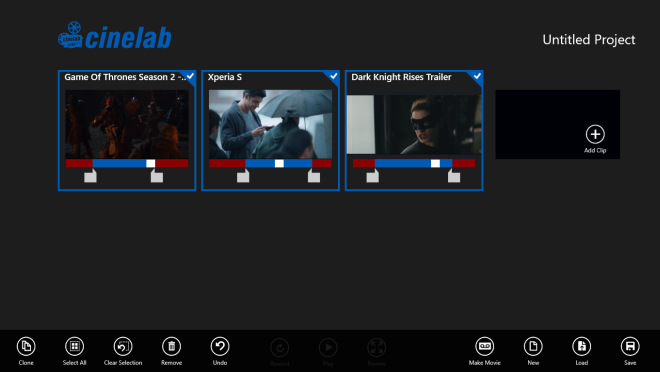 Cinelab is available for free at Windows Store. However, the free version only allows merging up to 7 clips. To add more clips, you need to purchase an in-app Pro license. Testing was carried out on Windows 8 Pro, 64-bit.