Clean All Windows System & Application Junk/Temp Files And Browser Histories
You may know Windows automatically logs all the actions that you perform, in different forms including logs, MRU (Most Recently Used) list, recently used documents and files, Run console commands etc. Therefore, it is always advisable to clean the junk data and temporary files from time to time in order to save precious disk space. Free Internet Window Washer is a junk cleaning tool that can clean junk files and temp data of more than 100 popular applications. In addition, it lets you delete Windows temp folders, Run console search keywords, Windows Explorer search list, recent documents history, browsers' cache and history, saved passwords, cookies, URL history and more, all from a single interface. It also allows you to clear the tracks of applications, including 7-Zip, ACDSee, Ad-Aware, Adobe Acrobat Reader, Microsoft Photo Editor, Quicktime Player, WinZip etc. The Browser data cleaning feature has the ability to remove Cache, Cookies, Download History etc., from IE, Google Chrome, Mozilla Firefox and Opera profile folders. Apart from cleaning pre-defined applications' data, it even lets you add custom items (file and folders) to perform junk cleaning operation. Details to follow after the jump.
When you start the application, it will ask you to enter a registration code. You can get a free registration code, but even if you skip the registration process, you can continue using the application. To clean data from your computer, first click Wash Settings from the left side. The Wash Settings dialog box has four main tabs at the top named Windows, Browsers, Applications and Custom Item. The Windows tab lets you select and delete data-related to System, MS Office, Instant Messengers and Outlook Express.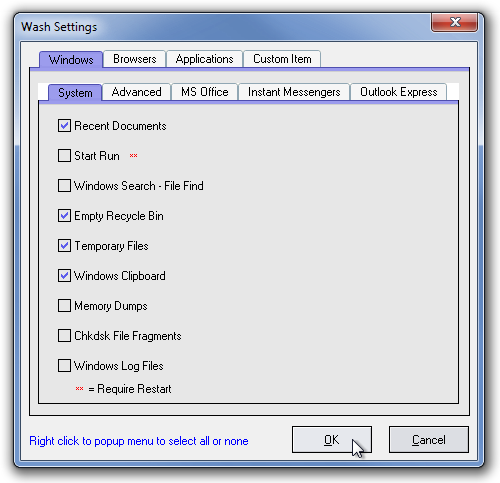 The Application tab features a list of  more than 100 popular software. You can select any of these installed on your system and its data will be deleted along with all the other selected items.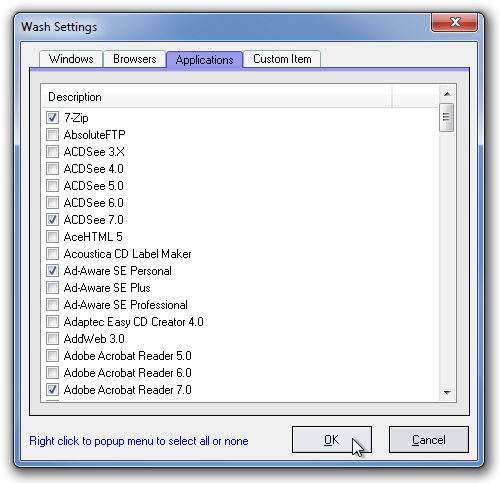 The Browser tab lets clear browser related data, such as Temporary Internet Files, Cookies, URL History, Download History, Stored Passwords etc. Free Windows Internet Washer supports Internet Explorer, Google Chrome, Mozilla Firefox, Opera and Netscape.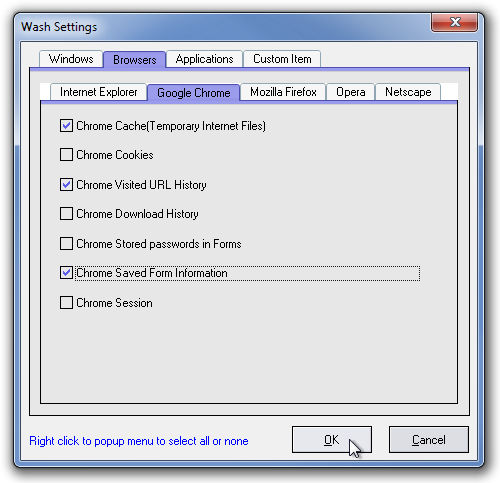 When everything is selected, click Wash Now from the main interface and all the selected items will be deleted from your computer.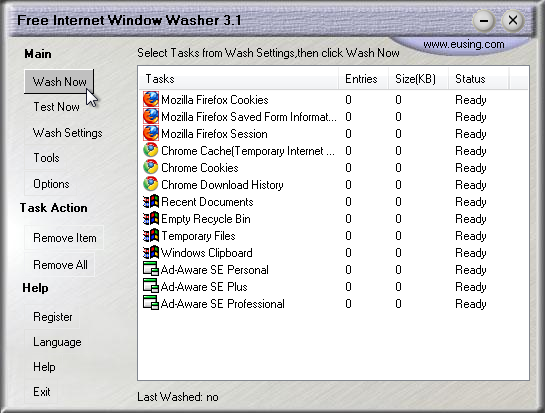 Click the Tools button in the left to open the built-in Startup Manager, which lets you delete superfluous entries from the Windows Startup. Free Internet Window Washer works on both 32-bit and 64-bit versions of Windows XP, Windows Vista, Windows 7 and Windows 8.
Download Free Internet Window Washer