Clear Junk Files From iTunes Library & Sort It With A Click In Windows
For a lot of people, iTunes has become the de facto music platform for purchasing music. By and large, it's a mandatory toolkit for anyone owning an Apple device such as the iPhone, as it's the only official way for owners of these devices to sync them with their computers. After a few recent software updates, the Windows variant of the app has become even better. Those who use the application must be aware that iTunes doesn't let you add media files from multiple locations in one go. Furthermore, while specifying the folder(s), iTunes doesn't explicitly give you an option regarding which audio/video formats should be added. This is where desktop apps like iTunes CleanList come in to play. Not only does it keep your iTunes library well sorted and up to date, but it can also remove any orphaned items, such as deleted or moved files.
One of the key features of iTunes CleanList is that it lets you specify custom media file types that you want to add to your library. For instance, if the selected directory contains a mix of audio and video items and you want to add MP3 files only, you can easily do that using this app.
The interface looks clean and simple, and offers a few settings regarding the synchronization process as well. The 'Load Settings' and 'Save Settings' buttons at the top help you to save and load your current iTunes CleanList configuration anytime you want. To add files to iTunes, click Add and select your source directory. The application allows adding multiple directories, which saves a lot of time should your media files be scattered in a number of different locations. Next up, you can specify the file extensions for items you wish to add. The application comes with MP3, MP4, WAV, M4P, M4R, M4V, 3GP and AAC selected already, but you can specify any others that you want, or remove any of these from the list.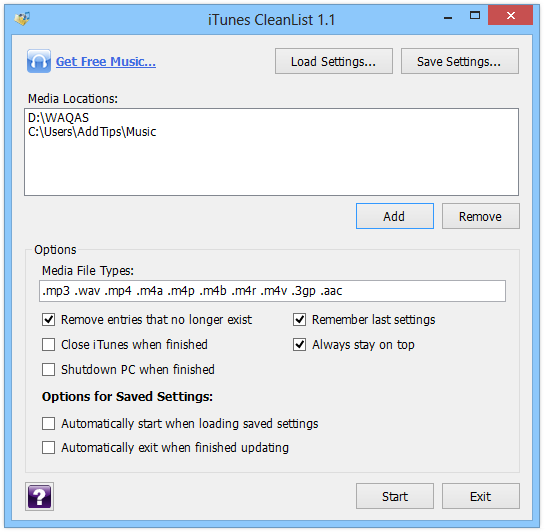 The options section also contains a few toggles that can be enabled/disabled according to your preferences. 'Remove entries that no longer exist', for instance, easily takes care of orphaned links i.e. the files that are longer available in their original location. Similarly, you can choose to close iTunes when the process of updating your library has finished, shutdown your PC after the sync process, remember last settings (for automatically saving current settings), and the more generic 'always on top' option.
The application also provides a couple of parameters related to the 'Saved Settings' feature and lets you mark whether you'd like to automatically began the uploading process when a saved settings file is opened, and automatically exit after the upload. To kick off the media synchronization process according to your configuration, hit the Start button and let the tool do the rest.

iTunes CleanList works on Windows XP, Vista, 7 and 8. Testing of the app was carried out on Windows 8 Pro, 64-bit.