Click.to Scans Clipboard Items And Paste Them To Selected Applications
Click.to is an application for Windows written to save mouse clicks for performing numerous lengthy tasks. With Click.to up and running, you no longer have to take long route to upload photos to Facebook from desktop, attach files to Outlook mail, initiate Google search, share thoughts on Twitter and Facebook with others, search YouTube videos, save photos to Flickr, find articles on Wikipedia and so on.
The workability is based on very simple principle; it provides links of all popular websites and frequently used applications, allowing you to associate them with Windows clipboard copy action. When you copy a file, image, or text, all the selected list of weblinks and applications will appear alongside the copied item, letting you send it to compatible desktop and web applications.
During installation wizard, it asks you to enable those applications and webapps which you wish to see when item is copied to Windows clipboard. You can also customize this application list from Click.to Settings window.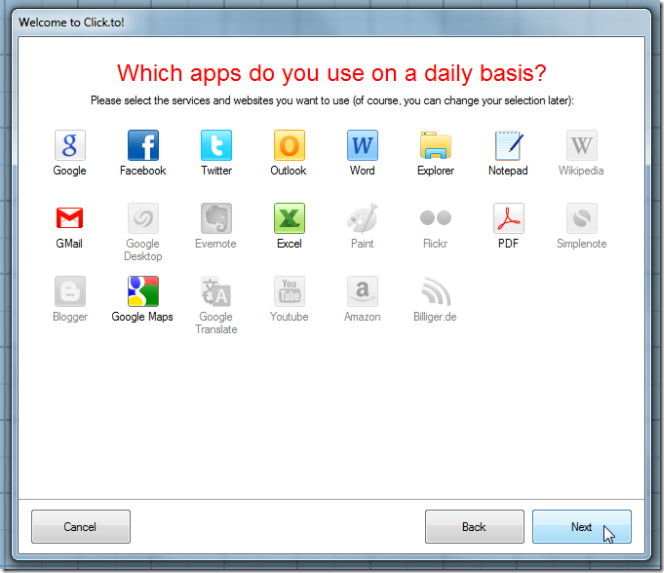 After installation, launch the application, it will sit in system tray, from where you can configure application list and enabled web applications, and check mouse click statistics.
When you want to share text from text editor with your friends and peeps over Facebook and Twitter, just copy the text you want to share and then click on respective social media website icon. Similarly, you can initiate Google search, send text to Outlook mail compose window, MS Word new document, new Notepad file, etc.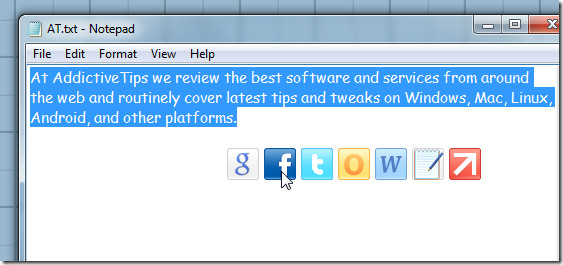 ,
Similarly, you can attach file to Outlook mail by copying file followed by clicking Outlook button.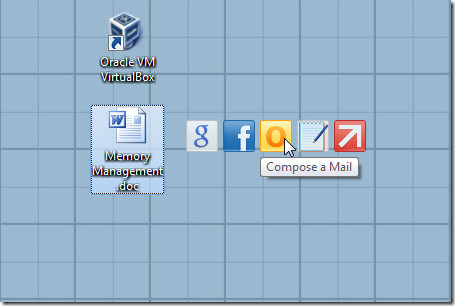 When you want to add application to previously enabled application list, open Options window and from Actions tab, enable those you want to show next to copied item. You can also sort enabled apps in desired order, change application bar appearance, and access other advance options. To view how many minutes you have saved since the Click.to launch, access Statistics window from system tray menu.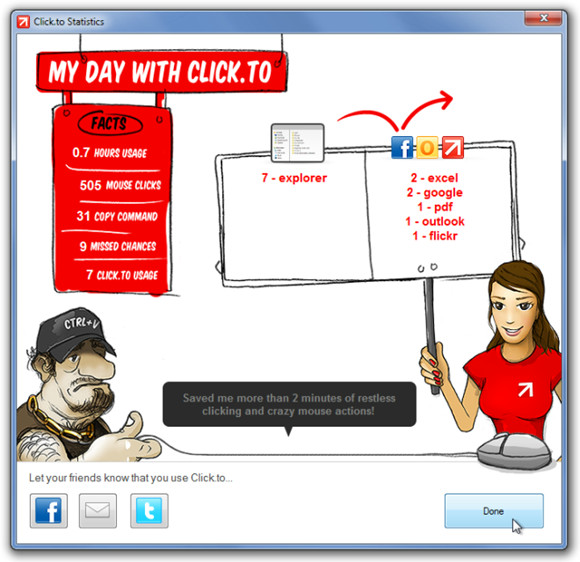 You can watch a brief Click.to introductory video below.
It works on Windows XP, Windows Vista, and Windows 7.