Click2Mobile: Convert Videos For Smartphones With Custom Resolutions & Sound Levels
Mobile phones – or rather smartphones – of today are capable of doing much more than just call or text a person. If you are a smartphone user yourself, you would agree with the iTunes App Store tagline, "There's an app for that". Being an Android user, I can vouch for the huge number of apps available also on the Android platform that allow us to extract much more out of our phones than previously possible. Using your smartphone, you can browse the internet, create and manage shopping lists, have video conversations, share articles, manage your finances, listen to music, play games and perform a lot of other activities that used to require a whole bag of tools and gadgets. Since the screen size of smartphones seem to be increasing with every new phone coming out in the market (iPhone excluded), a lot of people use it for watching videos, which can either be locally saved or streamed from the internet, and are a great way to fight boredom when you have nothing else to do. However, due to each phone having its own specifications for screen size, a different resolution is needed to have the best video-watching experience on your smartphone. Today, we have an application called Click2Mobile that lets you easily convert video files to the proper format and resolution required by your phone using presets.
During setup, make sure you decline the installation of InstallManager toolbar to avoid getting unwanted software in your computer.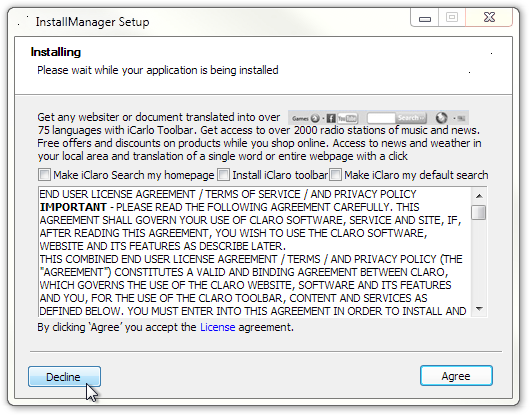 The application is very easy to use. After you run it, click Browse, select the video that you want to convert for your phone and click Continue.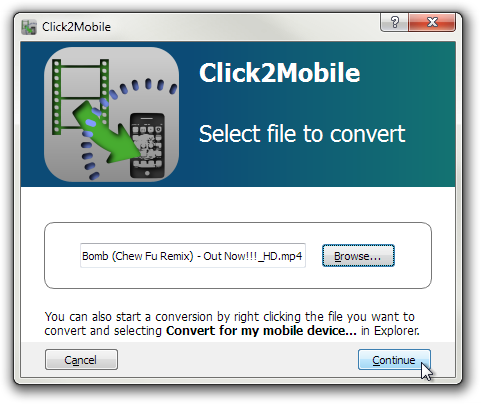 The Advanced Conversion Options dialog box pops up when you select the video, allowing you to select the Target device, including iPhone 2G-3GS, iPod Touch 1-3, iPhone 4-4S. iPod Touch4-5, Android Phone 400 x 800 (resolution), Android Phone 240 x 320, iPad and Android Tablet. There are 3 settings for Quality available: Low, Medium and High. A unique feature of this application is that it allows you to change the volume level of the video from 25% to 400% of the original audio volume, which can be really useful on phones with low maximum volume. Moreover, you can add metadata information to the video, such as the Title, Artist, Album and Year of release. When all settings are done, click Convert to start the process.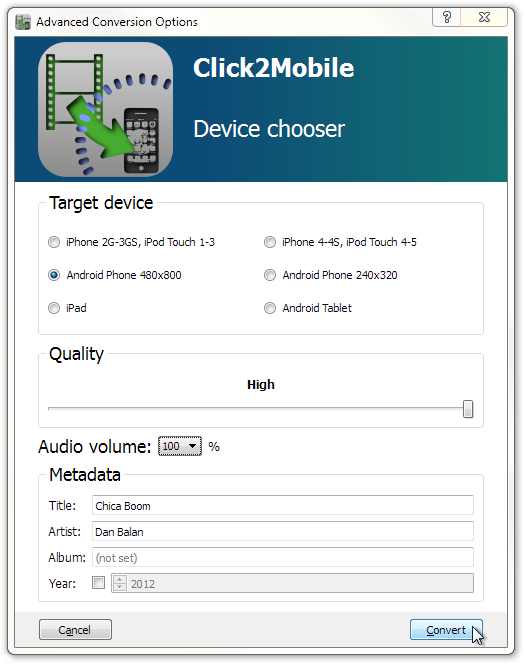 Other than the Browse option, you can also select videos for conversion using the right-click context menu in Windows Explorer. Just right click any video file and select Convert for Mobile Device option. It will take you directly to the Advanced Conversion Options dialog box, allowing easy conversion of the video for your portable device.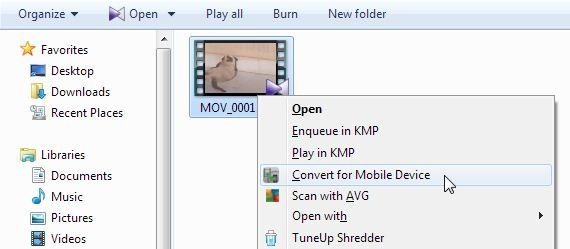 In the Android presets, a higher resolution should also be available to match the capability of newer devices, such as the Galaxy Nexus and Galaxy S III that support 1280 x 720 resolution. Click2Mobile works on both 32-bit and 64-bit versions of Windows XP, Windows Vista, Windows 7 and Windows 8.