Clipboard History Brings Up 'Clipboard Items Stack' To Paste Text Anywhere
An application which can stack up clipboard items will help you to quickly paste selected items from clipboard. Windows native clipboard manager lacks this feature of holding text and gets quickly replaced whenever a new text snippet is copied. Clipboard History holds previously copied items so you can easily paste them in required workspace. Comparing with previously featured clipboard manager – Clipboard History (with same name), it comes with a long list of configurations to customize the way you copy and paste text. The application was developed to fulfill basic text copying needs, therefore, it can stack up only 20 text items. It comes with a registered hotkey – Caps Lock, to instantly bring up all the items which are residing in the clipboard manager. You can change the default hotkey and choose the most suitable key for pasting the text. Additionally, it allows you to edit and delete selected items from clipboard history for adding more items in the clipboard items list. You can save the most frequently used text snippets as stickies, so you can use them whenever you want.
After installing the application, you will see it in system tray. It is recommended to change the default preferences. Click Configure from system tray icon menu to bring up main configuration window.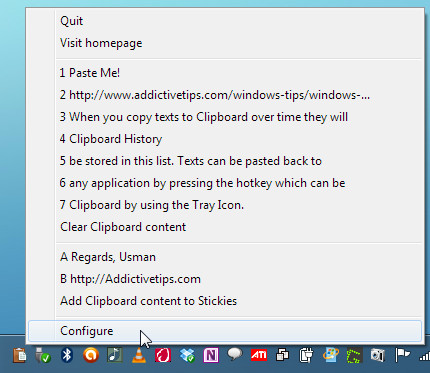 In this window, you can delete sample clipboard items, edit them, or clear the list at once. The small window at right-side contains stickies – permanent clipboard items. A right-click on an item will let you edit, delete and change the order of stickies.  Underneath these two windows, you can enable/disable clipboard monitoring, make character ignore list, and register new hotkey combination.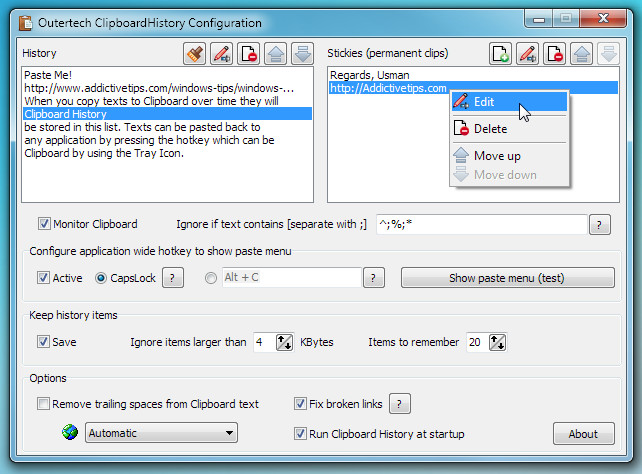 Before closing down the Preferences window, don't forget to enter 20 in Items to remember box for holding up to 20 clipboard text items. Now, when you use the defined hotkey combination, a list will pop-up with all the recently moved clipboard items. Just select the items which you want to paste in your workspace.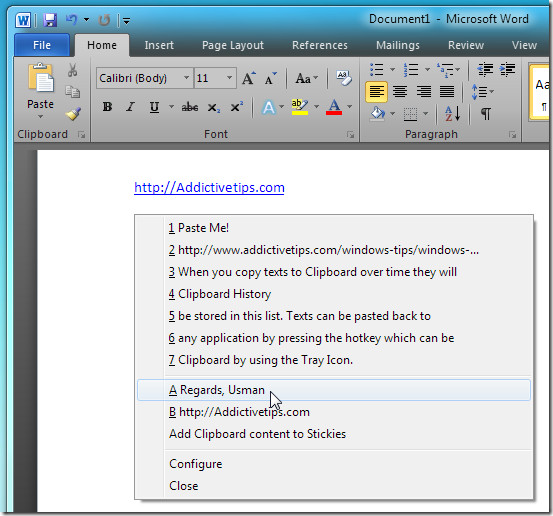 It works on Windows XP, Windows Vista, and Windows 7.