Clipbox: Clipboard History Made Easy In Windows
There are several clipboard history tools for Windows available, offering a host of features and convenience in work, and Clipbox is one amongst the crowd. However, what makes this tool different is its size. Standing at a mere 400 KB and being portable, this program can store limitless clipboard text entries for future use.
When launched, it sits in the system tray and can be invoked with a single click. Clicking any of the available text strings will copy it back to the clipboard, so you can paste it wherever you like.
The user also has the option to save clipboard history with timestamps, allowing a track-keeping of when a certain text was copied to the clipboard. You may also choose to view the clipboard history in a separate, neat window by right-clicking the tray icon and selecting 'Show History'. Note that this is the only view where you can view the timestamps.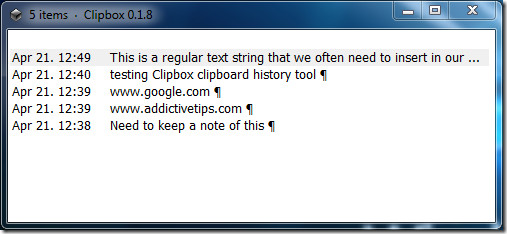 You may choose to have the utility start automatically with Windows. It works with Windows 2000 through Windows 7.
You may also be interested in checking out previously reviewed, Clipboard History or Clipdiary.