Clipboard Saver: Save Text & Images From Clipboard In Defined Format
Many clipboard history management applications like Free Clipboard Manager and Ditto only save clipboard history, and do not provide advanced features such as automatic image resizing according to a defined criteria (for images saved from the clipboard), clipboard text search, replace and clipboard text editing. Clipboard Saver is a portable clipboard manager that enables changing the content of your clipboard in different ways. It supports saving pictures and text to clipboard, and also provides options to alter their content.
Clipboard Saver works like any other clipboard manager, and does not require any complex configurations. Once launched, it starts recording clipboard text, and provides information about the attributes of the copied content (e.g. image format) from the Details tab.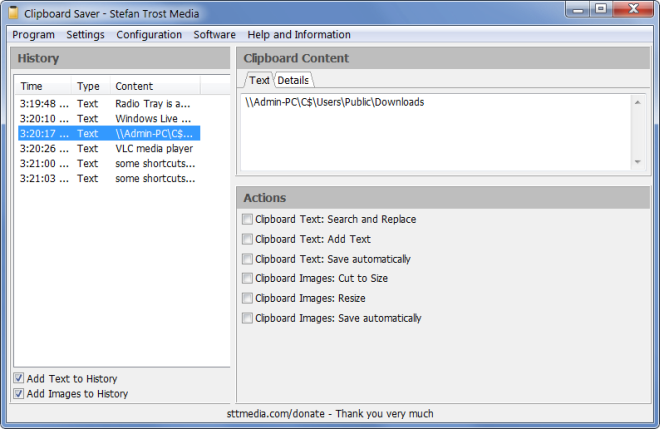 You can select additional options from the Actions section. From here, you can search and replace text, edit clipboard text, enable auto saving of text to a directory and choose a file format (TXT, Log, PHP, HTMl or HTM), select a size to automatically crop copied images, and select a directory and format (BMP, JPG, PSD, TIFF and many more) to auto save copied images. For example, you can use the Print Screen button on your keyboard to create a screenshot, which is then resized and saved in your pre-defined file format.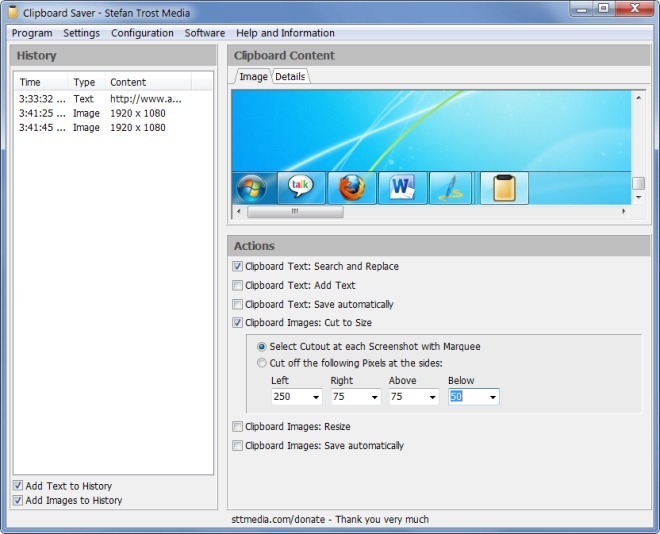 Clipboard Saver works on Windows XP, Windows Vista and Windows 7.