CloudaTag Stores Photos And Videos In The Cloud, Stream HD RAW Video
CloudaTag is a desktop manager that organizes, geotags, and keeps a backup of all photos and videos to the cloud. It uses Amazon S3 Cloud Storage for storing photos and provides 1 GB of free space upon signup. Apart from basic photo management, it can edit photos and stream full HD videos from the cloud in RAW format. To get started, sign up with CloudaTag service and download the desktop application.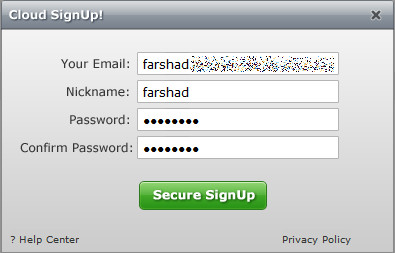 Once the application has been installed, import all photos and videos to begin organizing. Individual files can be selected to be imported, or you can import from a device or folder.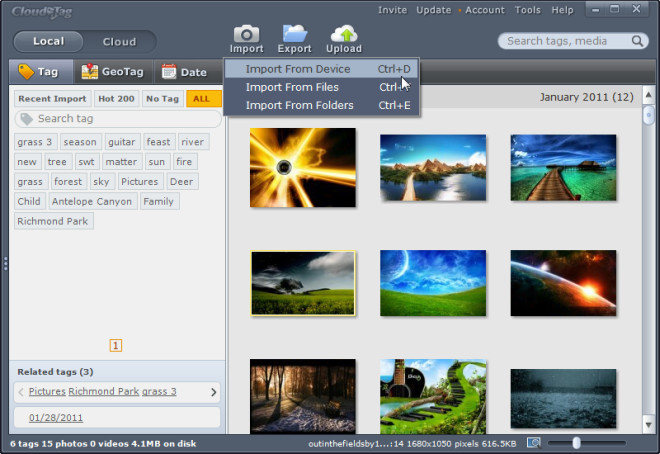 To tag, geotag, or edit a photo or video file, right-click it and select the respective option. Many useful option are also provided, such as, Locate on Disk, Remove from Library, Update Thumbnail, Export, Upload, Set as Wallpaper, etc.
Once you have selected a photo to be edited, you can adjust exposure, crop image, balance color, increase or decrease saturation, intensity and reducing fog/haze, blur or fuzziness.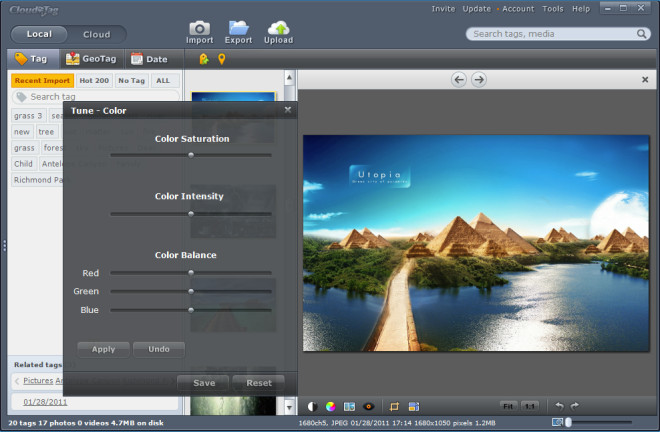 The best way to organize images in Cloudatag is to geotag them. This can be done by specifying a location of the image in GeoTag tab. Unfortunately, like Picasa, CloudaTag does not automatically recognize faces (in photos) to tag.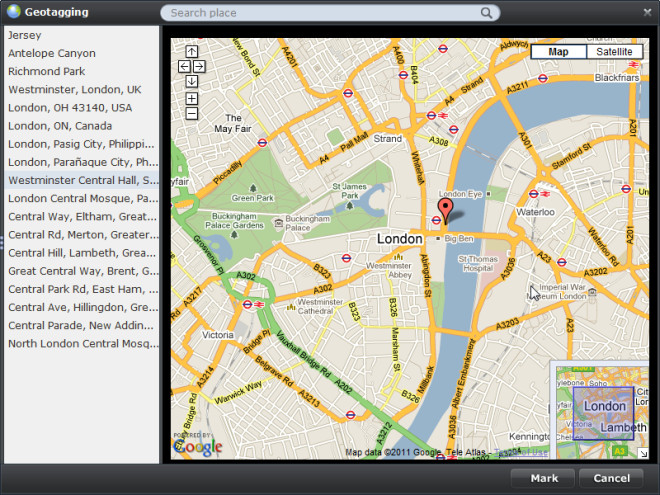 Once you have organized and edited all albums, you can either export them to local drive or upload them to CloudaTag. On the top left of the main interface, you will find a Local > Cloud Switch. Clicking this switch will show all photos and videos that have been uploaded to the cloud. All videos that have been uploaded can be streamed in RAW format.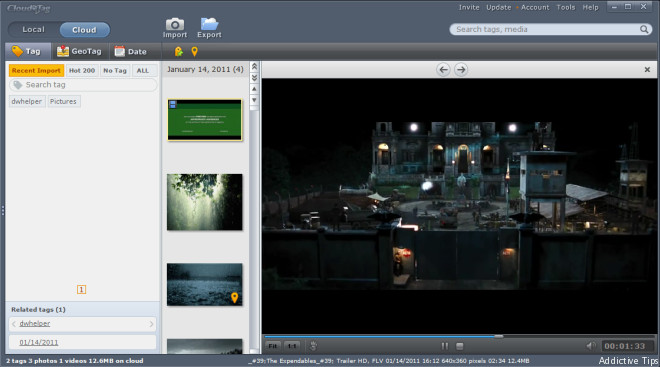 Although CloudaTag is a useful cloud service with many advanced options, it only provides 1GB of free space and lacks the functionality dynamics of Picasa. It is more useful for users who might be looking for a simplified application for cloud media storage. The CloudaTag application works on Windows XP, Windows Vista and Windows 7. Visit CloudaTag