CodecInstaller Scans Existing Codecs & Downloads Missing Ones Required By Your Media Files
Windows 7, by default, comes packed with majority of the audio/video codecs that are required to play most media files. Even if a codec is missing, you can grab various third party media players, such as Media Player Classic, KMPlayer, VLC Player and GOMPlayer, or download a codec pack to do the job. Nevertheless, due to the wide-array of media formats, chances are, you still might have an important codec missing from your PC. To cope with this caveat, you can give CodecInstaller a try. It's a feature-rich utility that aims to help you in three simple ways – scan the existing codecs in your PC, analyze a media file to find required codecs, and/or download new codecs from within the application itself. It's fairly easy to use, and comprises a minimalist user interface. Details to follow after the jump.
Please note that the application tries to download and install Crawler Toolbar to your PC during the setup process. You should uncheck it manually to avoid the download.
Launch the application, and you will be presented with its aforementioned features, namely Installed Codecs, Analyze File and Install Codecs. To check your existing codecs, click the Installed Codecs button.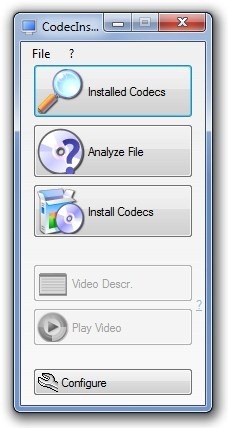 The Installed Codecs console scans and lists down all the already available codecs under Video, Audio, Other and General categories. It tells you of the Filter name, Company, Version and Driver information of the codec file, and you may click the Update button to rescan the codecs.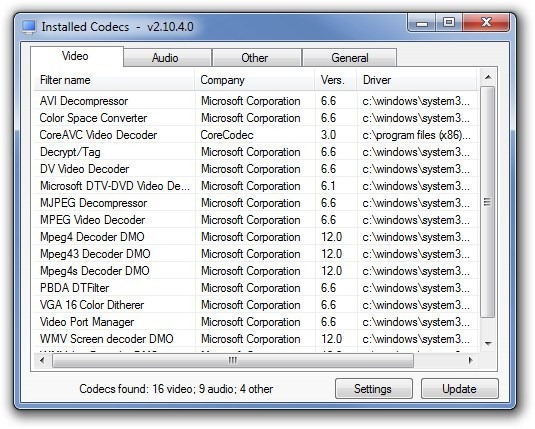 If you have recently downloaded an unidentifiable audio/video file and want to know about what codecs it probably needs to work, you can use the Analyze File option. It's quite straightforward to use, as all you have to do is select your input file and click Render at the bottom left. The application lets you know of complete General, Video or Audio information of the file, such as File Name, Length, Size, Bitrate, Video Width and Height, Codec, Framerate, Total frames, Audio Channels, Frequency etc, as well as naming down a list of splitters that can help you in playing your file. Last, you can click Frames and RIFF buttons to view relevant information about these two parameters.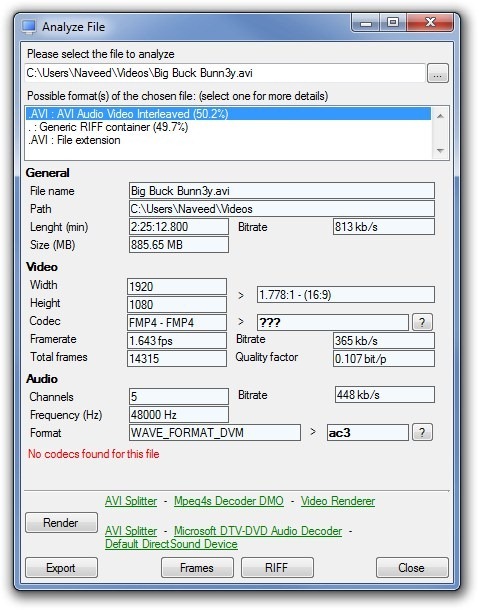 Should you need to download a new codec, click Install Codecs on the main interface to hop into a miniscule console. It lets you download most of the major codecs, like DivX, XviD, FFDShow, Matroska, Inter Indeo 5, AC3 filter, Ogg Vorbis, MPEG Layer-3, Windows Media, OptimFROG, 3ivx Filter Suite, Musepack and AAC Advanced Audio Codec. If any of the codecs on the list is already installed on your PC, you will see Installed checkbox at the very bottom of the window; likewise, if the codec is outdated, the application will let you know by marking Updated checkbox.  Clicking Download to the bottom right takes you directly to the codec's download location on the web.
Lastly, you can click Configuration button on the main interface to open settings panel. Here, you can specify application language and select delay period for automatic updates check.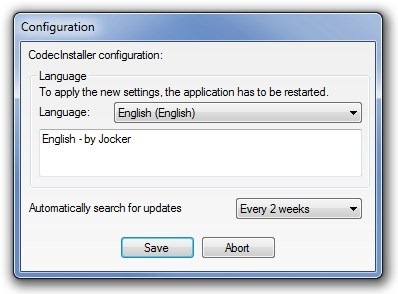 Conclusively, CodecInstaller is a nifty little tool that saves you the time of manually searching for missing codecs on Google. Moreover, it also scans existing codecs on your PC and enables you to quickly analyze a single file to find out missing codecs. Coupled with an intuitive UI, this is a must-have tool for audio/video enthusiasts.
---
The application works on Windows XP, Windows Vista, Windows 7 and Windows 8. Both 32-bit and 64-bit OS editions are supported. Testing was carried out on Windows 7 Ultimate, 64-bit.