CodeDesigner RAD – Design Application Structure With UML
CodeDesigner is all-in-one application development IDE created for software application managers and developers to help with coding major modules of the application and for creating  UML diagrams for each module being developed. The application apparently seems to be quite akin to famous development environment – NetBeans, which offers handling for both code and UML diagrams with an option to reverse engineer JAVA code to UML model. CodeDesigner is however not comparable with Netbeans in terms of features and programming languages support but offers simple and independent solution for application developers to get started with the coding and UML modeling.
According to the developer, it can be used as an alternative to Enterprise Architect or IAR VisualState. Since its workability is based on famous RAD (Rapid Application Development) methodology of building software application, it is suitable for projects which requires minimal planning and requirement gathering on small scale.
The application interface is designed keeping the very same project management in mind as you have in other eminent development environments, like Dreamweaver, Eclipse, Netbeans, etc. At the left side, you have the main navigation bar to browse through the current project files while main window comprises of diagram area, source code editor, real-time log windows, diagram thumbnail window to view complete structure of diagram.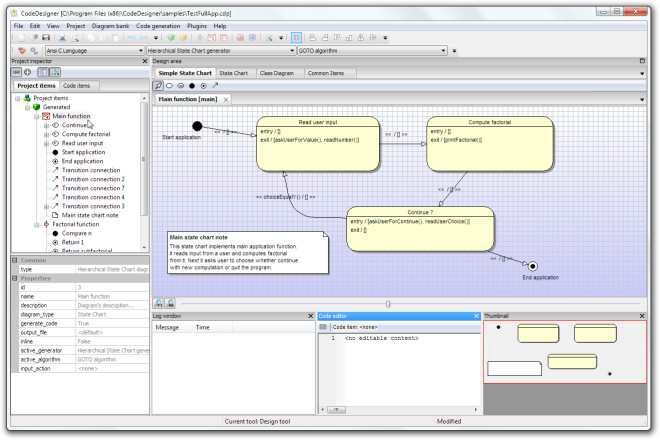 Creating UML diagrams in CodeDesigner is as simple as in Microsoft Visio, it provides you with simple controls and shapes to assist with designing Flow and State charts, Class diagrams, State diagrams. The code items can be handled through a dedicated code items box where you will see all of your used code snippets. On the Product page, you can find detailed documentation covering all technical aspects. It runs on all major OS platforms requiring only JRE 6.0+. We tested it on Windows 7 x64 system.