CollageIt: Create Impressive Collages For Free
Back in 2009, we covered a powerful collage making application, called Shape Collage. It offers advanced features that are yet to be found in other similar applications. However, some users need a much simpler collage maker, and that is exactly what CollageIt aims to bring. It is a simple, lightweight, and user-friendly application that helps you set up picture collage instantly in just three steps. While the program automates most of the complex, collage creating task, users still have their say in the overall layout of the images.
To start off with, select the images you wish to add to this application by clicking on the Add button from the bottom left of the window. Navigate to the image files you want to add and click Open. Once all the images are successfully added, just click on Generate Preview to take a look at how images look together. If you find that a particular image does not look good with others, select it from the left Photo List window and click Remove.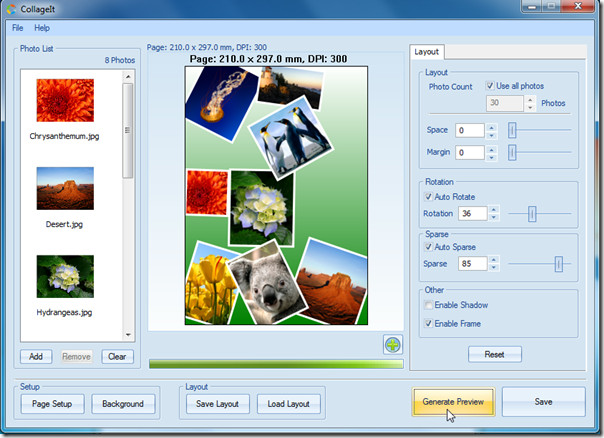 To edit collage background, click on the Background button from the bottom of application. You can use a color filled background or an image background. You can also set the opacity level for the selected background.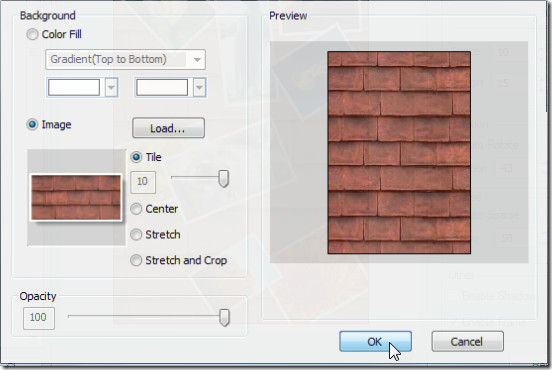 Last step involves selecting a layout for the collage. Specify the number of photos in the Photo Count. Check the Use all photos option if you want all images to appear in the collage. Adjust the corresponding values for Space, Margin, Rotation, Auto Sparse, Enable Shadow and Enable Frame. Click on Generate Preview to see the effect of any option on the collage. Click Save once you're finished.
It supports Windows XP, Windows Vista, and Windows 7 OS; testing was carried out on Windows 7 x86 system.