Comfy Reader Brings Pocket-Like Reading Experience To Windows 8 & RT
You might be surprised to hear that about 32 million people travel by bus in the US each day. Add this number to those who travel by train, air or other modes of transportation, and you will have a staggeringly large figure. The time while you're travelling can be the best time to browse the news, read a story or finish up on that late night article on your tablet or smartphone. While you may have read about apps like Spool or Pocket that enable saving webpages for offline reading or browsing them on the go, these popular apps haven't made it to Windows Store yet. But fret not, as today, we have got an awesome alternative that might save the day. Comfy Reader is a Windows 8 and RT app that can instantly save webpages for offline viewing. It only stores the text of the page, stripping away any distracting elements like videos, pictures, advertisement etc. which in turn also saves disk space.
Presentation-wise, the app looks very elegant with tiles stacked over one another in its 'to be read' and 'read' sections. These tiles are basically links to pages you saved. Webpages that you haven't read yet will be stored in the 'to be read' section, while those that you've read can be moved to the later by marking them as read from the app bar. Comfy Reader can save any page opened in your web browser (Internet Explorer and Chrome etc.) via the Share Charm of Windows 8 / RT. Though it only works when the supported browser has a Modern UI mode.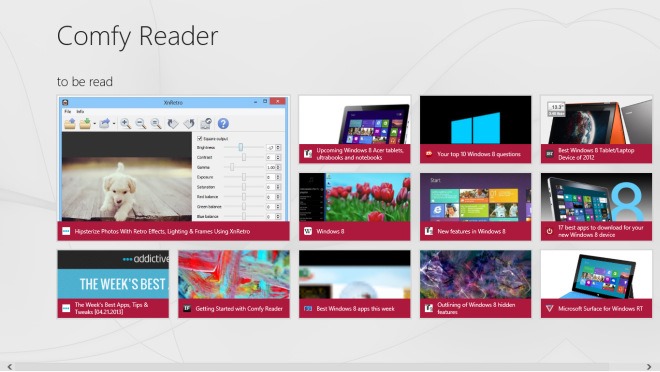 To get started, open the page in the browser of your choice under Modern UI mode and hit the Share Charm from the Charms Bar (which can be accessed via pressing Win+C or taking the mouse pointer to either of the right corners). The Share Charm will display the supported apps that let you share the content of related apps. Simply click or tap Comfy Reader.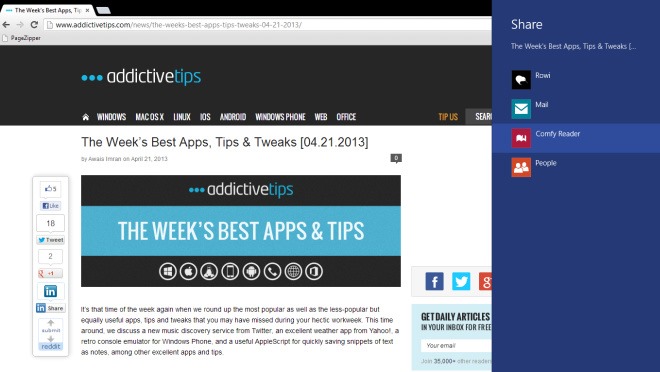 The app automatically fetches the URL of the page, presenting you with a 'Read Now' button. Clicking or tapping it opens up the that page in Comfy Reader with the page's image and other media content completely removed.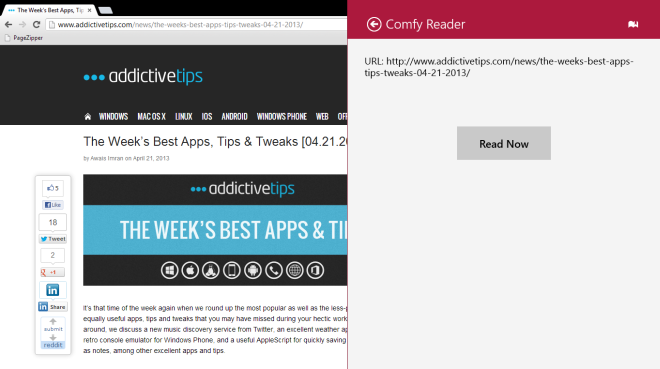 The app doesn't require an active internet connection for running or letting you access saved page, of course. However, not having so also makes it unable to display the image thumbnails on the landing screen. This is the only issue we faced during our testing of the app. Other than that, the output looks pretty neat, with formatting, colors and fonts that are easy on the eyes and provide a comfortable reading experience.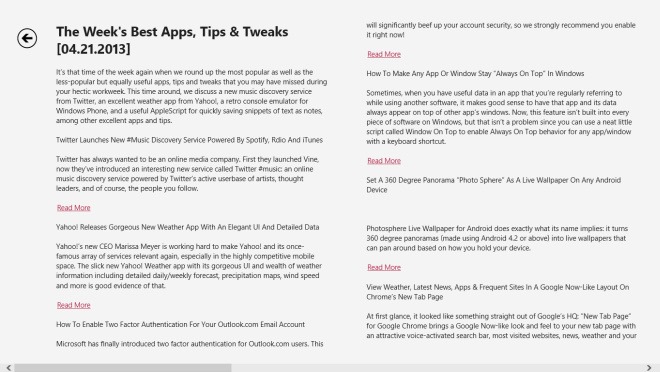 Comfy Reader works on Windows 8 and RT only, and is available at Windows Store for free.