Compare Sheet is a free portable tool that allows anyone to compare two Microsoft Excel Table Sheets quickly. It publishes the final result which contains rows from first table which have or haven't equivalent in second table according to given criteria.
When creating an Excel file, make sure you have entered the data correctly in both Sheet1 and Sheet2 keeping column header rows. See the default excel test file that comes with the package to better understand how to paste data in both sheets.
Once the excel file is ready, select the source file(must be in .xml format), and the data in Sheet1 will be loaded and displayed as Table 1 while the data in Sheet2 will be loaded and displayed as Table 2.
Now select the Reference field by selecting the columns name for both Table 1 and Table 2. Next, select the criteria that should be used to compare the sheets.
Finally enter the result sheet name which will be created inside the source excel file. If you want to save the result in a separate excel file, then enter the name under Result File. Otherwise you can leave it blank and a third sheet will be created in the original excel file with the name that you defined under Result Sheet. When all is done, at last hit the Compare button.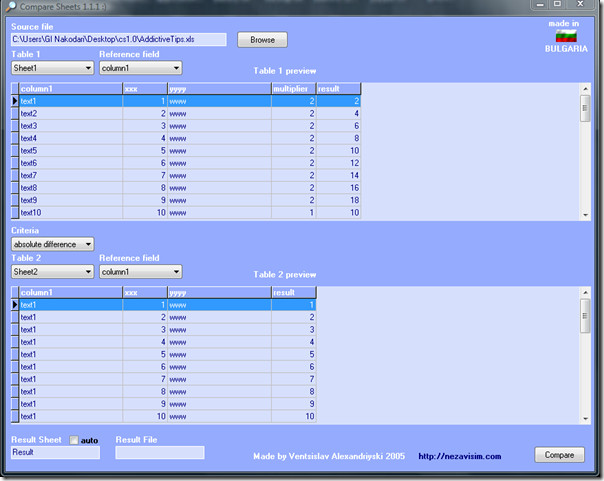 Once you understand how it works, comparing excel tables becomes fairly easy. You don't need to have MS Excel installed in order to use this tool. The only downside is that it doesn't support the newer .xlsx format, only the original .xls is supported.
Download Compare Sheets (Last program at the bottom, scroll down to find it)
It works on all versions of Windows and has been tested to work successfully on Windows 7 as well. Enjoy!