Compress Large AVI Files With AVI ReComp
Many users prefer downloading files in AVI format as they are easier to transcode in other formats (e.g. VOB which is a DVD format). An AVI file basically contains audio and/or video data for synchronous playback of audio with video. However, the problem with AVI files is that they can be heavier as compared to some other formats. For instance lighter MKV files can be high in quality despite retaining its playback quality, but the the latter often results in transcoding issues and is not supported by many transcoding applications. To avoid AVI files from consuming too much space on your hard drive, a solution can be to compress them with AVI ReComp. It allows re-compressing AVI files and provides the option to insert subtitles for the compressed video. It's installation pack contains many required components such as VirtualDubMod, AviSynth and Xvid. This way users can compress their downloaded AVI files, compress them and later transcode them for a media device (e.g. DVD) which can enable them to add more media to a single device and conserve hard disk space for the stored files. AVI ReComp provides detailed information about the encoded file and also provides video tweaking options like cropping of black borders of the video.
To compress an AVI file, provide its path from the Open AVI button and choose a destination folder for the encoded file from the Save AVI button. The detailed information about the AVI file can be acquired on the right hand side of the main interface. This information includes codec, size, bitrate, aspect ratio details for bot the the audio and video contents of the file.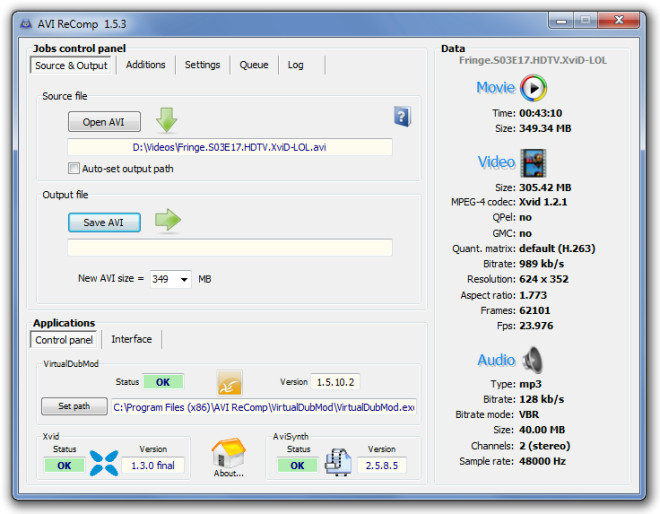 You can tweak the video before initiating the encoding process from the Additions tab. From here, you can use the cropping tool the crop the video and remove black borders, Load subtitles and add a logo to the video. It's Cropping tool can can crop and alter video aspect ratio. Moreover, all audio streams of the file can be  encoded in a desired modes such as VBR, ABR and CBR. It supports AVIs with  mp3, wav, ac3, dts, and ogg audi formats. Whereas, supported subtitle formats include TMPlayer (.txt), MicroDVD (.txt / .sub), SubViewer2 (.sub), SubRip (.srt), Advanced SubStation Alpha (.ass) and SubStation Alpha (.ssa), VobSub (.sub/.idx).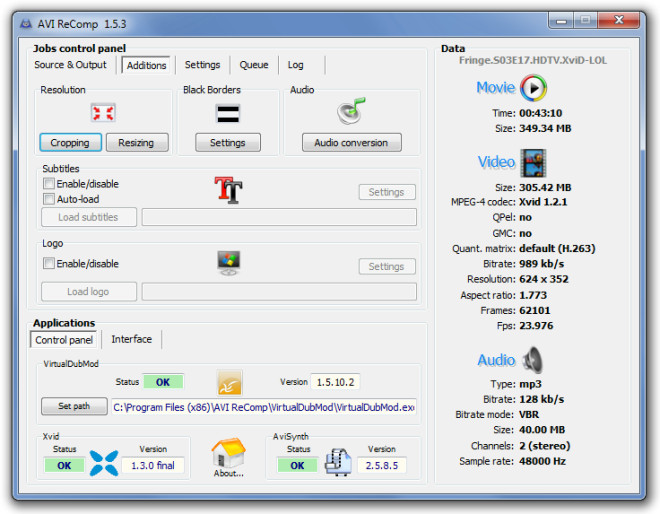 The Settings tab allows setting encoding priority levels, disabling  B-VOPs, deleting temporary files after the encoding process is completed (to help avoid clutter on your hard drive), setting program defaults and configuring other encoding parameters.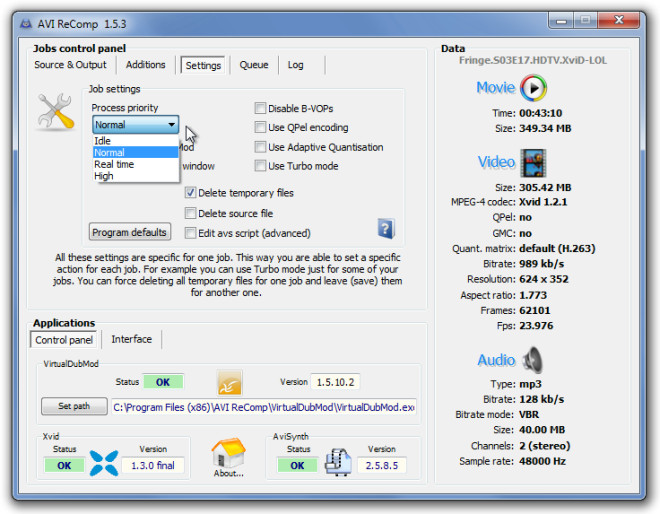 Finally, from the Queue tab you can click Add to queue, followed by the Start button to begin the encoding process to compress the selected AVI file.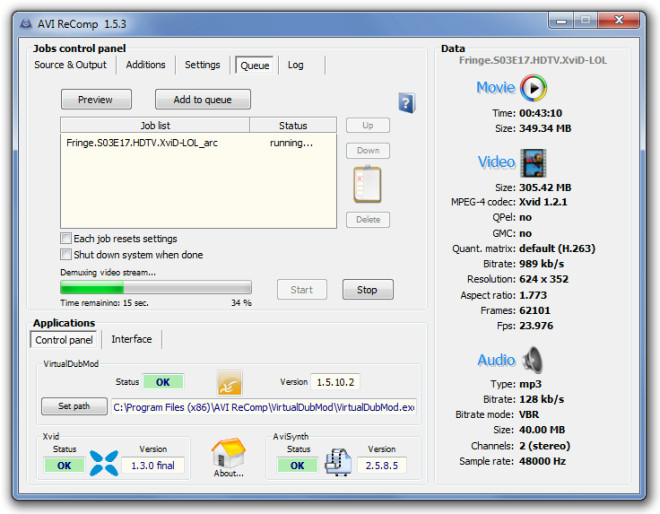 AVI ReComp works on Windows XP, Windows Vista and Windows 7.