Concord Is A Floating App & File Launcher For Windows Desktop
A few days ago, I cleaned my desktop to get rid of unwanted and obsolete icons that were doing nothing but simply cluttering my desktop and ruining my beautiful background. After making the desktop completely uncluttered, I started to add a few shortcuts of just my frequently accessed programs, files and folders back to it. It was all going smooth and steady until I realized that filling up the desktop with a plethora of icons isn't exactly the most efficient or aesthetically appealing way to access my required content, and started looking for an alternative solution that could provide quicker and more organized access to my shortcuts without spoiling the desktop. My hunt for that intuitive solution landed me on Concord, and it proved itself to be quite handy. It's a application launcher for Windows that eliminates the need for putting shortcut icons on the desktop. Along with beautifying the desktop with its minimal design , it provides a nifty solution for quickly accessing files, folders, apps and websites.
The interface of Concord looks quite elegant and features slightly rounded corners. The dragable UI lets you position Concord anywhere you like on your screen. It lets you access shortcuts under different categories labeled Multimedia, Graphics, Home, Internet, Office and System. Each category is represented with its own icon, which slightly pops up when you hover the mouse pointer on it. Clicking the icon displays a minuscule menu that offers a few further choices for that category. For instance, the Office icon provides access to documents, folders and programs. Likewise, System icon lets you open control panel and other system programs. You can also enter custom text in the search field to filter the shortcuts. Click the small green button at the bottom-left corner takes you to the preferences section.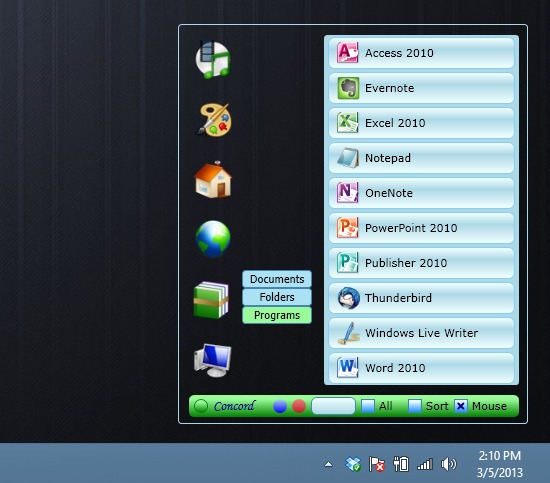 Here, you can add shortcuts for new programs, files, folders and sites, as well as reorganize the existing items. To insert a new shortcut, click Add Item. drag your desired shortcut over the application and click 'View Items'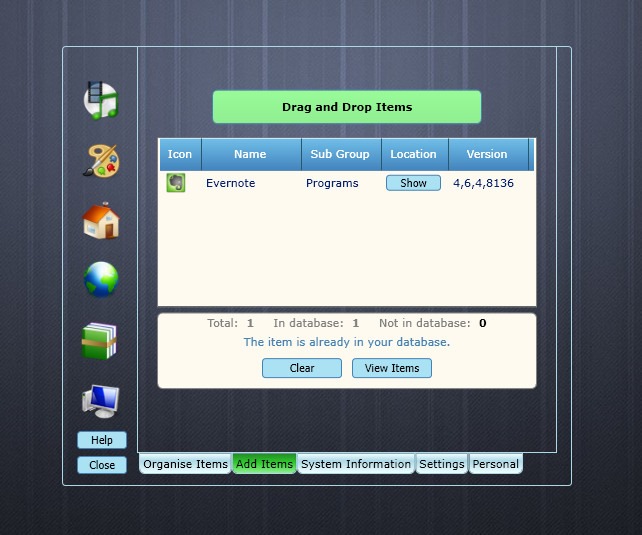 Doing so would allows you to see the app's name, version, icon and location, along with letting you open it. You can click the shortcut again for further customization.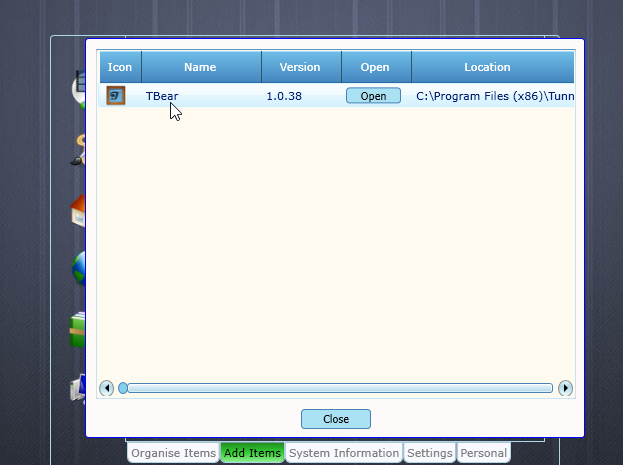 For instance, you can specify the category for your shortcut, as well as a custom name and description. The final step is to click Add to save your newly created shortcut.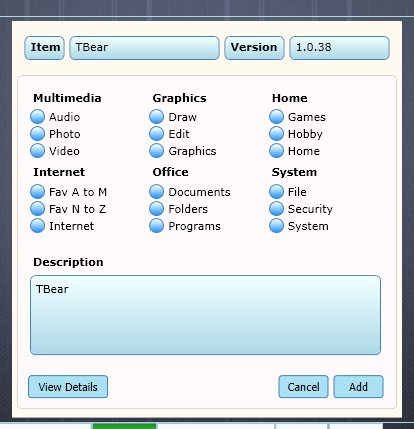 Concord also allows you to view a summary of computer's software and hardware-related information under the System Information tab. You can click any item from the list to see the underlying information. Lastly, the Settings tab lets you configure application-specific options related to mouse hover and startup behavior,  as well as delete, backup and restore your current shortcuts database.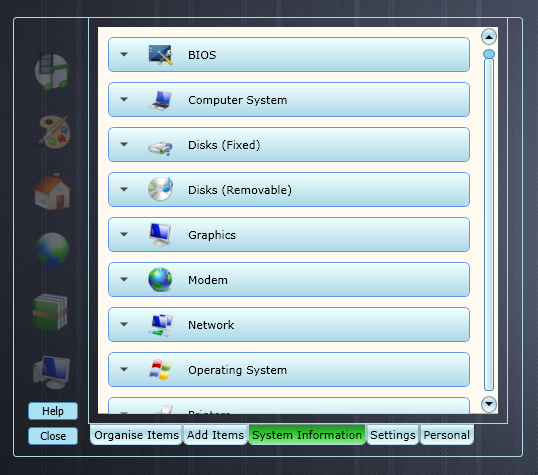 Concord is available for free and works on Windows XP, Windows Vista, Windows 7 and Windows 8.